Keith A. Carter, MS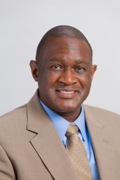 U. S. Navy Retiree
New London, CT
"Leadership is the ability to remain humble and embrace integrity, combined with the ability to inspire."
After 23 years of service to his country in the U.S. Navy as a Chief Petty Officer, Keith Carter retired to begin a second career as a community based education specialist at the University of Connecticut School of Medicine.  He dedicated himself to the cause of expanding educational opportunities for underrepresented minorities, especially in the healthcare professions.  "This really changed my perspective about healthcare and the health disparities found within communities of color," he says.  Carter attributes his dedication to his aunt, who taught him how academic learning is not enough to help many health professionals successfully treat illness in African Americans and people from different cultures.
Carter earned a bachelor's degree from Southern Illinois University in workforce education and development, a master's of human relations from the University of Oklahoma and a master's of social work from University of Connecticut.  In pursuit of his dream, he looks forward to begin work on a doctorate in human services.
His top two passions are mentoring and flower gardening.  In his free time he keeps busy repairing small gas engines, carpentry, reading and family.