Lorrie Greenhouse Gardella, JD, MSW, ACSW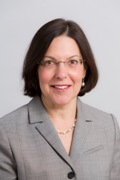 Professor of Social Work
University of Saint Joseph
West Hartford, CT
"Leaders bring people together for a common purpose, appreciate every person's potential, and create opportunities for meeting individual and collective goals."
Lorrie Greenhouse Gardella entered social work during high school as a settlement house volunteer.  She earned an A.B. in Government from Smith College and a JD and MSW from the University of Connecticut.  She served as a consultant in children's law before beginning her higher education career.  Gardella sees health equity and educational equity as two sides of a coin.  Her goals as an educator are to improve college access for underrepresented communities and to prepare ethical, culturally responsive professionals who learn from the communities that they serve.
Gardella has been motivated to social action by her Jewish heritage and her historical research.  "My Jewish heritage has taught me that every generation has the obligation to build a better world.  In my research and writing, I have learned from examples of multicultural leaders of the past and from my students, the leaders of the future, that we have the ability to promote social justice and social change," she says.
Outside of work, Gardella and her husband volunteer for the Boston Symphony Orchestra at Tanglewood in Lenox, MA, the orchestra's summer home.