Mary C. Stuart, MPH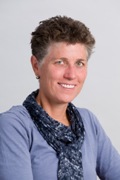 Community Programs Coordinator
Center for Health Equity
Saint Francis Hospital and Medical Center
Hartford, CT
"Leadership is about creative thinking that leads to positive equitable change and includes a commitment and passion for doing things in a new or different way.  Most often it involves support from others."
Mary Stuart's work is influenced by her training, her experiences, her colleagues, and most importantly by the people public health programs are designed to serve.  She received her undergraduate degree in nutrition education from Cornell University and completed her MPH at the University of North Carolina at Chapel Hill.  Stuart held a variety of public health positions that include conducting program evaluations in Guatemala for Christian Children's Fund and directing a local Women, Infants and Children program.
"During my nine years at Saint Francis my position has evolved to include a strong focus on public health.  A Catholic nun described the people she works with as 'those who had been made poor.'  This description of a system that serves some people but not others continues to motivate me to work in public health and to focus on the elimination of health disparities."
Outside of work Stuart keeps herself busy as parent to three children, enthusiast of a wide range of activities that include cooking, sailing, biking, reading, and taking care of a 100-year-old house.