Melenie Magnotta, BS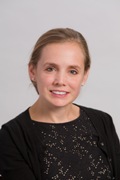 Grants Manager
Aetna Foundation, Inc.
Hartford, CT
"I see leadership as a way a person can motivate and gain the help and support of others in order to fulfill a common task."
As a program officer for the Aetna Foundation, Melenie Magnotta is responsible for managing a portfolio of national and strategic grants in the Aetna Foundation's focus area of racial and ethnic health equity.  As grants manager, she oversees the grants management system and administers the Foundation's grant application, review and evaluation processes.   Through her work at the Aetna Foundation, Magnotta has seen the great need for health equity for all Americans and feels that by focusing on these disparities we can eliminate them.
Prior to joining the Aetna Foundation in 2006, she was community director for the March of Dimes Foundation in Hartford, where she coordinated fund-raising walks, motorcycle rides and other events.  At Hewitt Associates, a human resources consulting and outsourcing firm, she was a project manager/business analyst in the company's Norwalk office.  She holds a bachelor's degree with a double major in marketing and French from Susquehanna University in Selinsgrove, PA.
Outside of her profession she enjoys cooking, traveling, working out, and spending time with friends and family.