Natasha I. Rivera-LaButhie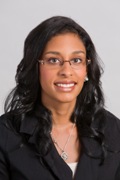 Community Health Ambassador
MOMS Partnership of New Haven
Yale University School of Medicine
New Haven, CT
"Leadership is sharing a common problem with a group of your peers, refusing to allow it to continue by offering solutions, and becoming a voice for those who suffer the same disparity in silence."
A licensed cosmetologist and a certified massage therapist, Natasha Rivera-LaButhie decided as a young student she would one day come back to her hometown of New Haven to make a difference no matter how small.  While her professional background is focused on improving the physical and emotional well being of a person, she has changed her focus from the individual to community health.
As a mother of three children, she has struggled to find quality programs that meet her family's basic needs.  "I can relate to my community through my own experiences and knowledge," she says.  Her experiences in the community have directed her onto the path of wanting to improve services not only for her community but for future generations.  In her current position as a Community Mental Health Ambassador for MOMS, she serves as a platform to be a voice for New Haven families.
Outside of work she enjoys free time with her husband and children, her extended family and friends, in addition to her cosmetology and massage therapy careers.