Nicole A. Zuber, MD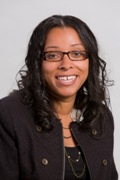 Child and Adolescent Psychiatry Fellow
Yale Child Study Center
New Haven, CT
"A leader is someone who can motivate, inspire and organize a group of people to achieve a common goal through collaboration."
Nicole Zuber, MD received her undergraduate degree in biology from Howard University and medical degree from the University of Medicine and Dentistry of New Jersey – Robert Wood Johnson School of Medicine.  Currently pursuing a fellowship in Child and Adolescent Psychiatry at the Yale Child Study Center, she received her general psychiatry training at Beth Israel Medical Center in New York City.
"Over the course of my medical training, I have learned that to be a good physician, I must strike a balance between the academic standards and rigors of medicine and the humanism, compassion and empathy needed to care for each individual patient," she says.  Dr. Zuber is particularly interested in exploring issues related to child and adolescent psychiatry, such as substance abuse disorders, family/social issues, and school based interventions for at risk youth.  She is a recipient of the American Psychiatric Association's Minority Fellowship Program – Substance Abuse and Mental Health Services Award.
Outside of her professional responsibilities, she enjoys spending time with family and friends, watching football, cooking, arts and crafts activities and working on home improvement projects.