Nordia Grant, MPH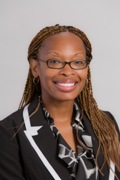 Health Program Assistant II
CT Department of Public Health
Hartford, CT
"A leader is someone who inspires, makes difficult decisions, and possesses the ability to mobilize people to work together towards achieving a common goal."
Nordia Grant has always been passionate about addressing health inequities in her community. Born and raised in Jamaica, she moved with her family to Bridgeport at the age of nine.  As a child, she witnessed how low socioeconomic status, lack of insurance and lack of access to care can contribute to poor health outcomes in individuals and stressors on the family.  Grant believes strong multiracial collaboratives are crucial for successfully addressing the complexities of health inequities.
Grant earned a bachelor's in psychology from the University of Connecticut and her MPH from Southern Connecticut State University.  At the Department of Public Health, she served as coordinator of a three year federal grant focused on providing systems change and resources for youth with special health care needs and their successful transition to all aspects of adulthood. Currently she serves as co-coordinator of a state implementation grant aimed at improving access to comprehensive, coordinated healthcare and related services for children and youth with Autism Spectrum Disorder and other developmental disabilities.
She enjoys bowling, traveling to new places, a diversity of cuisines and spending time with family and friends.