Ranjit Bhagwat, PhD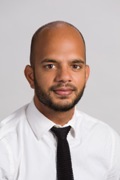 Postdoctoral Clinical Psychology Fellow
Yale University Department of Psychiatry
New Haven, CT
"A leader must possess the ability to listen critically, synthesize information at multiple levels of complexity, effectively organize human potential, develop strategies and tactics for achieving objectives, deliver the right messages to the right people at the right time, and, most importantly, inspire hope."
Ranjit Bhagwat, a postdoctoral psychology fellow at Connecticut Mental Health Center (CMHC) and Yale University, serves as a psychology consultant/liaison to Columbus House, Inc., a broad-based nonprofit service organization focusing on the needs of homeless individuals in the Greater New Haven area.  He is committed to generating systemic change through mental health programming, policy, and community organizing to eliminate health disparities across social and economic lines.
Prior to his time in the field of psychology, Bhagwat spent a number of years working as a community organizer for issues of educational justice, immigrant rights, and police-community accountability on the southwest and north side of Chicago, IL.  His community interventions experiences generated a broad context for his professional turn to clinical psychology, and he strives to connect these varied training backgrounds in his current work.
He loves to travel, read, cook, and spend time with friends and family.  Bhagwat and his wife, a social psychologist with a passion for research and advocacy on issues of equity, reside in the New Haven area.