Rasy Mar, MPH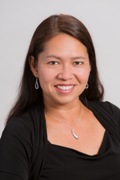 Community Based Education Specialist
University of Connecticut Health Center
Farmington, CT
"Leadership is the ability to engage, motivate, and influence others to achieve a certain goal."
As a Cambodian refugee, Rasy Mar is an active member of the Cambodian community.  Mar is very aware of the challenges faced by immigrants who have no knowledge of the language or customs here.  She is often called upon to act as interpreter during medical visits, explaining what the doctors said and meant.  Upon earning her MPH from the University of Connecticut she accepted a position at the health center.  She develops and maintains community relationships between the medical students and outside organizations where they learn about health disparities, cultural barriers and other aspects of medicine not found in a classroom setting.
Mar spearheaded seminars to promote better understanding of the various cultures and communities in Connecticut.  As Co-chair of the Awareness and Outreach Committee for the Connecticut Multicultural Health Partnership, she hosted numerous viewing of the film Unnatural Causes 'Place Matters' on the social determinants of health and strategies for change.
Mar is passionate about learning, educating, and increasing cultural awareness.  She dedicates a significant portion of time to family and friends, is active in her sons' school and sports activities, and enjoys running and playing tennis.