Stacey Brown, PhD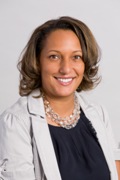 Director, Community Based Education
University of Connecticut Health Center
"Leadership is not about telling people what to do, but rather showing people what they are capable of and inspiring them to act upon it."
As director of community based education at the University of Connecticut, Stacey Brown works with students to develop strategies to address the impact of social, economic, political and environmental influences on health.  "Too often, health profession students are narrowly focused on the biological diagnosis of a patient without taking into consideration that the disease lives in a person, who lives in a family that lives in a community within a culture."  The educational activities Brown helps to develop and implement teach students to treat the whole patient and identify community resources to improve the quality of care.
Brown became aware of the challenges of the healthcare system and existence of disparities when her mother was diagnosed with breast cancer.  "This firsthand understanding further cemented my resolve and dedication to being a part of the solution," she says.
She is passionate about being the best parent, role model and mentor she can be to her daughter.  She enjoys reading, biking and trips to discover new things in small Connecticut towns.