Susan B. Román, MPH, RN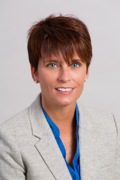 Program Director, Special Kids Support Center
Connecticut Children's Medical Center
Hartford, CT
"Leadership is the ability to recognize, develop, and empower individuals to think and act in ways that encourage growth and success."
Early in her nursing profession, Susan Román focused on two vulnerable populations:  children with mental health issues and children and adolescents with special healthcare needs.  She quickly realized that hospital nursing only gave a glimpse of the child/family during an acute event, where the focus was often dictated by the hospitalization and not the events leading up to admission.   Román transitioned her career to an outpatient community setting, where she could see and treat each child as a whole.  "I became aware of all the factors – poverty, asthma, illiteracy, etc. – that affected the health outcomes of children with special health care needs." This experience compelled Román to pursue an education in public health.
Graduating from Saint Francis Hospital School of Nursing with her RN, she went on to earn her bachelor's in psychology at Central Connecticut State University and her MPH from the University of Connecticut in maternal child health/research.  "It was my graduate work and subsequent volunteer work in Haiti that has had the greatest impact on my life and desire to eliminate health disparities."
Román enjoys spending time with her husband, daughter, son and extended family members.  She loves to run, bike, swim and sail/kayak.