Andres Barkil-Oteo, MD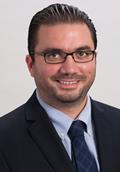 Assistant Professor of Psychiatry
Yale School of Medicine
New Haven, CT
"Never doubt that a small group of thoughtful, concerned citizens can change the world. Indeed it is the only thing that ever has." —Margaret Mead
Andres Barkil-Oteo's passion for understanding mental health issues within the context of large complex systems led him to be involved in providing mental health services to diverse groups, including university students, uninsured Latinos, and Iraqi refugees. These experiences taught him that problems facing a community are larger than the sum of individual issues, and to improve individual lives we have to improve the community as a whole.
Barkil-Oteo received his bachelor's and medical degrees from Damascus University. He completed his adult psychiatry residency training at Yale University, and a public psychiatry fellowship at New York State Psychiatric Institute. Barkil-Oteo is an assistant professor of psychiatry at Yale School of Medicine, and attending psychiatrist at Connecticut Mental Health Center where he works at the Hispanic Clinic, a mental health clinic that specializes in monolingual Latino population.
Apart from his professional interests, he loves to travel to tropical places during the long cold New England winters, and enjoys a variety of water sports.