Diana L. Cardona, DMD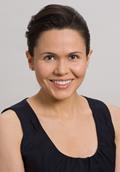 General Dentist
Community Health Center Inc.
Norwalk, CT
"Leaders strive to gain a clear understanding of the needs of those they serve, enable collaborative action and empower others to participate and contribute."
Diana L. Cardona's father operated a dental laboratory for over 30 years. "I took active roles in the daily operations of the lab and I knew I wanted a career in dentistry," she says. Cardona earned a bachelor's degree in psychology from Hofstra University and after completing three years of research at the Research Foundation of the City University of New York, she attended the University of Pennsylvania, School of Dental Medicine.
She currently works as a general dentist for Community Health Center, Inc., in South Norwalk, CT. "As the only dental provider fluent in Spanish at the South Norwalk site, I am often asked by my patients about their health issues that go beyond their dental and oral health," she says. She uses these opportunities to encourage and empower patients to be active participants in their own care. "To better serve minority populations, healthcare institutions need to increase the cultural awareness of all healthcare providers," says Cardona.
Outside of the professional arena, she enjoys traveling, good food, great wine and spending time with her husband.