Lawrence Samuel Young III, MPH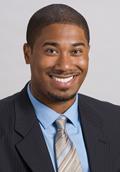 Health Equity Fellow
Center for Health Equity
Saint Francis Hospital and Medical Center
Hartford, CT
"As health leaders, one thing we must accept is that our leadership abilities are only good as the health outcomes of the people we serve."
Lawrence Young's passion for the health of underserved communities stems from his work as a community health educator, HIV counselor, adjunct college professor, and HIV researcher. He completed his bachelor's from Morehouse College where he majored in psychology and public health, and he completed his MPH from Emory University in behavioral science and health education.
Young's experiences have led him to view health disparities from the two different perspectives of government funded academic research and community outreach organizations. "The idea of working to help lessen the effects of health disparities not only has captured my interest, but leads me to find an area where I can combine my training, life experiences, and desire to improve the health of disadvantaged and neglected groups of people," he says. This has also shown him the importance of giving different key stakeholders equal voices in improving the health conditions that their communities encounter.
Outside of work, he enjoys live music, reading, traveling, coaching middle and high school debate teams, volunteering with meals on wheels, and spending time with his family.