Michael B. Greene, MPA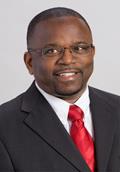 Health Program Assistant
Connecticut Mental Health Center
Department of Mental Health & Addiction Services
New Haven, CT
"Leadership involves responsibility, being able to take action, demonstrate commitment, dedication, persistent determination, and staying focus."
Michael Greene has worked in public health for over 25 years and has seen the ravages of racial and ethnic disparities across borders. Greene began his public health career with the Ministry of Health and Environmental Control in Jamaica as an entomological assistant and public health inspector.  He was later employed by the Palm Beach County Health Department and the Health Care District of Palm Beach County, Florida in the planning and research department.
Greene has a master's degree in public administration and a bachelor's degree in health services from Florida Atlantic University. In 2011 he relocated to Connecticut and worked for the Department of Children and Families and currently works with the Department of Mental Health and Addiction Service at the Southeastern Mental Health Authority as a health program assistant in the quality management department.
Greene is passionate about the needs of the less fortunate. "I look forward to being part of a team that will engage in efforts to advance health equity for all," he says.