Quiana Lewis, MPH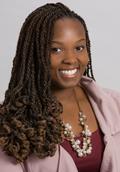 Emergency Preparedness Coordinator
Milford Health Department
Milford, CT
"An effective leader fosters interdependence within a group by identifying and maximizing the individual talents and skills of each group member while encouraging collaboration."
"My passion lies in the prevention of and intervention in obesity and obesity-related issues," says Quiana Lewis. Her dedication to understanding the complex factors contributed to obesity is rooted out of her own experience as an obese child. As a teenager, she grew increasingly aware of the disproportionate number of fast food restaurants near her inner city home compared to more affluent suburban areas and observed a similar trend while attending college. After graduating from Fisk University with a bachelor's degree in psychology, she completed her MPH at Yale School of Public Health with a concentration in social behavioral science.
Her academic and professional career is a reflection of ongoing dedication to public health research. Lewis worked for the Cook County Department of Public Health in Chicago conducting research on the accessibility and affordability of healthy food in low-income areas and helped develop intervention programs, which exposed inner city youth to farming and growing their own produce.
Outside of work Lewis enjoy traveling, scrapbooking, and spending time with her family.