Rhonda R. Evans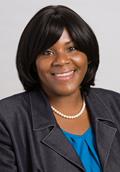 Deputy Director
Connecticut Association for Community Action, Inc.
New Britain, CT
"Leaders see opportunity and possibilities in all situations, and are able to bring people together to create change by first empowering and equipping them to see the opportunity and possibilities in themselves."
Constantly seeking to be an instrument of hope and change, Rhonda Evans has spent her career looking for ways to mitigate the profound impacts of poverty, especially on health. Among her many duties as deputy director at the Connecticut Association for Community Action, Evans enjoys training and technical assistance the most. She also assumes a key role in planning and organizing statewide and regional conferences.
Prior to her work with CAFCA, Evans worked for the Connecticut Department of Social Services as a regional agency planner. Evans holds a bachelor's degree from the University of Connecticut.
Evans is an enthusiastic supporter for the Connecticut Commission on Children; serving as a group facilitator for the Parent Leadership Training Institute and for the Commissions' Literacy Initiative. A lifelong resident of New Haven, Evans is married and the mother of three young boys. She enjoys traveling, reading and new experiences.