Tinashe Chapfika, DMD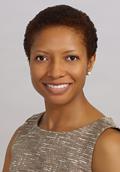 General Dentist & On-Site Dental Director
Community Health Center, Inc.
Stamford, CT
"Leadership is the ability to influence the beliefs, thoughts and actions of those you interact with to accomplish a common goal, purpose, or vision."
Tinashe Chapfika was born and raised in Zimbabwe, and came to the United States in 1999 for undergraduate studies in Southern California. Chapfika's longstanding humanitarian values made her want to use dentistry as a service to underserved populations. Before starting dental school, Chapfika taught Science, Art, English and SAT/ACT prep in urban and suburban neighborhoods in Pomona Valley, CA. She attended the University of Connecticut School of Dental Medicine, and achieved the Community Dentistry Award because of her community involvement.
In 2010, Chapfika founded a dental outreach program called Lotus Dental Outreach. Their primary goal is to reach people in underserved areas, primarily in rural Zimbabwe, but they also have been invited to Haiti, South Africa, and most recently Bangladesh. "We collaborate with local dental schools, oral health ministries, and other interested organizations, to host dental outreaches in primary schools, orphanages, and clinics that emphasize dental education and prevention methods that are culturally relevant."
Chapfika enjoys traveling, enjoying the various foods and cultures along the way.