Wesley Eugene Dixon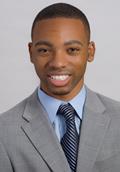 Research Assistant
Yale Rudd Center for Food Policy and Obesity
New Haven, CT
"Leadership is about using whatever platform you have to inspire others and motivate them to seek out and pursue their unique purpose, with passion and vigor."
Wesley Eugene Dixon's passion lies at the intersection of environmental racism and public health. In high school, he participated in the Telluride Association Sophomore Seminar (TASS) where he was exposed to the multifaceted nature of health issues. Dixon credits this experience as one which served as a catalyst that helped mold him into the health activist he is today.
Currently a Yale University student, he majors in environmental engineering and African studies, focusing on the impact the environment has on the health and development of marginalized communities both domestic and abroad. He serves as the coordinator for the Social Justice Network at Yale, working with New Haven Public School students to help them develop their own advocacy campaigns. Wesley is a national youth health activist as he serves as a Youth Scholar and Ambassador for the National Minority AIDS Council
Dixon is an avid social media user and strategist. He firmly believes that beyond their recreational use, social media are substantive ways to affect positive social change, especially among young people. Follow Dixon on Twitter @MrWesleyDixon.