Yolanda Caldera-Durant, MS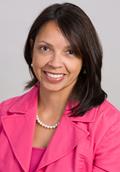 Senior Program Officer
Connecticut Health Foundation
Hartford, CT
"Leadership means working toward a vision for meaningful, positive change while effectively engaging and encouraging others to walk with you on the journey."
As senior program officer at the Connecticut Health Foundation (CT Health), Yolanda Caldera-Durant works in partnership with nonprofits, state agencies, and other partners to expand health equity. Caldera-Durant is particularly passionate about health equity because several of her family members experienced challenges in obtaining timely and appropriate health care due to cultural, linguistic and knowledge barriers. She knows that it will take the efforts of many focused, dedicated, dynamic and passionate leaders to make the change necessary for all Connecticut residents to achieve better health.
Caldera-Durant completed her master's in nonprofit management at Milano The New School for Management and Urban Policy in New York. She earned her bachelor's degree in sociology at the University of Connecticut. Prior to joining CT Health's staff, she was the program director at Fairfield County Community Foundation and a program associate at the Annie E. Casey Foundation.
In her free time she enjoys cooking, reading, yoga, walking, photography, international travel and dancing salsa. She lives in New Haven with her husband and feisty little dog.