Maya G. Welfare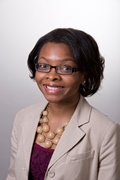 Name: Maya G. Welfare
Occupation: Office of the Mayor, City of New Haven
Why does health equity matter to you?
A kindergartner, in my classroom, was humiliated because students taunted him after realizing that he had numerous teeth discolored from cavities and amalgam. The students intuitively knew that his discolored, amalgam-filled teeth symbolized poverty. This display of health inequity had a lasting impression on me. Patients shouldn't be denied quality health care based on income.
What's in your leadership toolkit?
Traveling has afforded me the opportunity to study Spanish and become more culturally sensitive. These experiences have been significant in respecting the importance of different customs and health disparities that are culture specific. I better understand that culture is important to people and it shapes their views on health and medicine.
What's your not-so-secret guilty pleasure?
In my spare time, in order to increase my mental agility and memory, I relish playing: academic, mind, strategy, and Spanish vocabulary games on my iPhone. Some of my frequently played games are BrainWars, Duolingo, and Word Scramble.