The Connecticut Association of School Based Health Centers (CASBHC)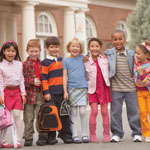 School-Based Mental Health Services—Do You Know Where the Boys Are?
African American and Latino boys are at school-based health centers (SBHCs), that's where they are. Health centers within schools are more successful at engaging Latino and African American adolescent males for mental health services than traditional community-based settings.
In fact, 36 percent of visits to SBHCs among African American boys were for mental health services, according to the Connecticut Department of Public Health's Clinical Fusion database.
Why is this? The Connecticut Association of School Based Health Centers (CASBHC) will be working to find out with the help of a $49,000 health advocacy research grant funded by the Connecticut Health Foundation (CT Health). And the outcome of their research may provide important information as state and federal policy-makers struggle with questions around shrinking state resources, improving health outcomes and high school graduation rates, and reducing incarceration rates for males of color. The study is an opportunity to show that SBHCs not only yield the best health outcomes for the state's investment, but also illustrate that these prevention programs actually save money in the long run.
As a result of this research project, the CASBHC hopes to produce an issue brief that will describe the ability of SBHCs to engage adolescent males in behavioral health services, the model that works, and the positive health and financial outcomes.  We hope results of this research will guide advocates and policy-makers to make sound decisions.