Our Historical Timeline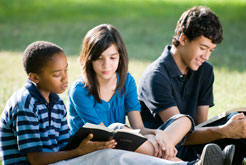 As the state's largest independent health philanthropy, CT Health has, and always will be dedicated to improving the lives of Connecticut's residents by changing health systems—a mission we remain steadfast in pursuing, in partnership with our grantees. Here's a look at how far we've come.
1997—ConnectiCare converts from a non-profit HMO to a for-profit managed-care company. As mandated by the state, money earned prior to the conversion must fund a charitable foundation to serve the people of Connecticut.
1999—ConnectiCare, Inc. creates ConnectiCare Holding Company, Inc. as part of its reorganization into a for-profit entity, and launches the Connecticut Health Foundation (CT Health). Patricia Baker is hired to lead the organization.
2001—CT Health exercises its option to sell equity of ConnectiCare and creates an endowment of $130 million to function as a private foundation.
2002—CT Health reaches the $1 million mark for awarded oral health grants. The Foundation also announces a $1 million grant-making initiative aimed at addressing racial and ethnic health disparities.
2003— CT Health begins executing its first strategic plan focused on community based children's mental health and oral health collaboratives, cultural and linguistic competence, diversifying the health professions pipelines and community-driven health promotion. CT Health also publishes the first policy brief with an in-depth analysis of the impact of premium- and copay-related Medicaid changes would have on families enrolled in HUSKY. This report contributes to a reversal of the Connecticut General Assembly's decision.
2005—CT Health creates a panel made up of community, business, nonprofit and government leaders to study public policy solutions that would start addressing health inequities statewide. The panel's report recommends creating a coordinating body to collect and analyze data across state agencies to monitor progress in reducing health inequities.
2005—CT Health establishes its Health Leadership Fellows Program to offer formal training to influential leaders committed to reducing racial and ethnic health disparities in the state.
2007—CT Health releases its ten-year strategic plan. In the area of racial and ethnic health disparities, the plan focuses on patient-provider interaction and public will building. Within children's mental health, the focus is early identification and intervention with children 6–14. And for oral health, the plan concentrated on low-income children.
2009—CT Health celebrates its 10th anniversary (read the full report, Shaking the Very Foundation, here) with a legacy of 556 grants totaling over $43.7 million in 45 cities and towns throughout Connecticut.
2013—CT Health reevaluates where it can be the most effective change agent and launches its new five-year plan. The plan transitions funding and focus from categorical priority areas (children's mental health, oral health and racial and ethnic health disparities) to an integrated strategy centered on health equity.
2014—CT Health sunsets its funding of children's mental health initiatives.