The Affordable Care Act
Opportunity in The Affordable Care Act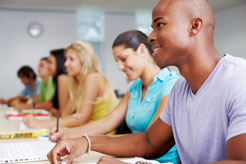 Simply put, the Affordable Care Act (ACA) equals health equity opportunity for people of color. There are evidence and research to support the idea that when health care coverage is more accessible, health disparities decline. That's why there is such valuable health equity potential in this important legislation.
Prior to the implementation of the ACA, sixty-five percent of Connecticut residents of color lacked health insurance. By covering more people and making primary care providers the gateway to other care, the ACA puts patients at the center of the system and can help more people get the right care at the right time and in the right place.
That being said, the ACA is long, complex and highly technical, so it's up to organizations and leaders like CT Health to hold health equity up as a priority. We strive to hold our health system accountable by getting people enrolled in the system, teaching them how to navigate and understand it and delivering higher value, more equitable care for everyone.