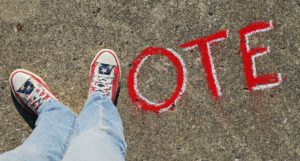 Today's post is from Connecticut Health President & CEO, Patricia Baker.
Today is a day we renew our faith in democracy by going to the polls and registering our choices on everything from the Presidency to school budgets and roads.
The act of making one's voice heard- this civic engagement – is in fact an act of self-determination. A time you can weigh in on the values and realities of your neighborhood and the nation's policies.
It is cliché to say that this right is a privilege – AND I ask you to recognize that exercising this right is a cornerstone to good health. One of the basic indicators of the health of a people of a community is whether its citizens vote.
The CT Health Foundation's mission is to improve the health status of CT residents and today we urge everyone to exercise their precious right to vote.
Did you vote? Leave us a comment and let us know you did!
Photo by Theresa Thompson used under the Creative Commons license with attribution to personalincome.org/vote