Today's post was written by Brianna Moody, communications & policy intern at the Connecticut Health Foundation.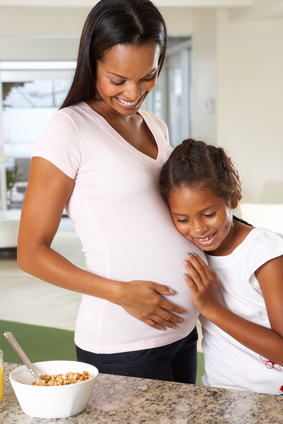 You've got the pacifiers, supernaturally absorbent diapers, even the passive-aggressive "I Love Auntie Best" onesie for your friend's baby shower.
But there's something even greater that our much-loved pregnant women need. And that's good oral health.
Yes, dental care is extremely important during pregnancy, but many women don't seek it, for a variety of reasons.
For the Dental Outreach Coalition within the 2014 Health Leadership Fellows class, this is a serious health equity issue that needs urgent attention.
Coalition members Rebecca Santiago, Yolanda Caldera-Durant, Diana Cardona and Rebecca Mizrachi are looking to change this by partnering with the Connecticut Mission of Mercy (CTMOM) for the annual free dental care event (you can learn more here).
For the first time ever, CTMOM will be setting aside chairs specifically for pregnant women in need of care. The coalition's goal? Get pregnant women into those chairs.
A COMPLEX HEALTH EQUITY ISSUE
Good oral health care is extremely important during pregnancy. For example, pregnant women with gum disease are at a higher risk for pre-term births and passing on dental disease and cavities to their babies.
But many pregnant women don't get the care they need. A pervasive fear amongst dentists, some OBGYNs, and pregnant women is that dental care will "hurt the baby." Or, OBGYN providers may not know to inform their patient and make a referral.
As identified by our research here pregnant women cite other barriers such as a lack of transportation, lack of knowledge that they need dental care, and a lack of accommodation for children or child care.
This is a health equity issue because women of color less likely to have dental insurance to begin with—an enormous barrier to receiving care. When compounded with the barriers above, women of color and their babies become disproportionately burdened.
The coalition members know all too well about the disconnect between the medical and dental professions.
Rebecca Mizrachi, who is a Family Nurse Practitioner, said, "Not once do I remember this topic being discussed throughout my clinical rotations during training or in lecture."
CTMOM, PREGNANT WOMEN, AND THE HEALTH LEADERSHIP FELLOWS
Enter the 7th annual CTMOM event. CTMOM holds a two-day clinic that offers comprehensive, free dental care to the people who come. Typically, the individuals are underserved, uninsured, and may have gone years without seeing a dentist.
This year is different, because for the first time CT MOM will set aside ten chairs specifically for pregnant women who need care. The goal is threefold:
treat pregnant women who would not otherwise receive care
train dentists specifically in treating pregnant women
engage pregnant women, oral health care providers, and policymakers in the conversation about the need for pregnant women to receive care during pregnancy.
But for CT MOM's plan to work, pregnant women need to show up.
Half of the battle is knowing when and where to go to receive reliable and affordable oral care. That's where the coalition comes in! The group will further engage community organizations and faith-based programs to create potent, data-driven and linguistically appropriate messaging for the media. That way, pregnant women, providers and policymakers will know where to go. Plus, they'll know what to expect when they arrive at the XL Center on April 25th and 26th (save the dates!).
"CTMOM targeting pregnant women of color is setting a precedent in the oral health care world," the coalition agrees. The coalition's outreach strategy will bring all major players "to the table" and get people to approach the topic in a synergistic way. The time is now!
SYSTEMS CHANGES
At the Connecticut Health Foundation, our theory of change is that changing systems makes the bigger impact. We do believe, however, that this direct service is important, which is why CT MOM has been a grantee of ours for several years.
Aside from providing care to women in need, the other important benefit is how that will inform systems change. Pregnant women at the event will fill out a questionnaire, which will provide us with empirical data to inform CT Health's engagement strategies.
More importantly, nearly half of all CTMOM participants are people of color, the very audience we seek to help the most. As vice president of policy and communications, Elizabeth Krause, once wrote, "An absence of data does not equal an absence of health issues." Data is key. With all hands on deck in April we can be sure that data falls into the right hands—equity motivated hands. We can better inform dentists of the standards of care for this population and ensure that patients know where to receive follow-up care. We can collectively encourage OB/GYNs to check for oral problems and make referrals when appropriate.
The only way to better understand the oral care needs of pregnant women of color is to make space for them. CTMOM is literally making that space.
CTMOM is taking a decisive first step to enthuse lasting system-wide changes. Our Dental Outreach Coalition is on board!  In working together, we will not be changing the conversation surrounding oral care for pregnant women of color. Even better: pregnant women of color will finally be getting the opportunity to change the conversation for themselves.
Let's transform conversations surrounding oral health to better center the voices and amplify the stories of pregnant women of color. Please join us, mark your calendars and spread the word!
Top photo by © Monkey Business – Fotolia.com. Bottom photo used with permission, courtesy of CTMOM>