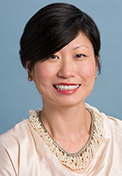 Today's post was written by Elizabeth Krause, Vice President of Policy and Communications at the Connecticut Health Foundation – and a frequent consumer of haircuts now that she has gone short.  She maintains that we ALL have important people in our lives who are benefitting from the Affordable Care Act and believes in the power of sharing these stories.
My hairstylist works in a hip salon by day and waits tables at a hip restaurant by night. I've been with her for years and get more from listening to her stories than she surely gets listening to mine. But what made my ears perk up recently was when she shared that she purchased health insurance through Access Health CT.
In the last year, she distanced herself from an unhealthy romantic relationship and buried her father. It is out of some darkness, which I had followed over several visits to her chair, that she emerged with resolve to make taking care of herself a top priority. Getting covered was but one part of her master plan. She got her own place. She started going back to the gym and lost weight. She has been pursuing continuing education to learn new techniques.
She works two jobs six days a week. When one of her beloved pets needs veterinary care, she cuts a deal with her landlord to get extra time to make rent. Understandably, it's been hard for her to fit health insurance into the picture. Even now with coverage, it was with a furrowed brow that she confided that her plan's high deductible worries her. When I told her that an annual well woman visit, mammogram, physical and other preventive services would have zero cost sharing, she got excited. "REALLY? You just rocked my world," she told me. I quietly fretted about why this hadn't been clear to her when she enrolled.
The last time I saw her, she told me about an injury she had been treating herself at home, fearful of her deductible. "You are paying premiums. You go to urgent care and use your benefits if something like that happens again!" I admonished. But that's easy for me to say and hard for a woman who lives month to month to do. The affordability agenda persists.
Still, for my hairstylist and thousands of women working many pink collar jobs that have not traditionally come with health insurance, the Affordable Care Act translates into OBGYN care, contraception coverage and extra peace of mind. I cannot think of one woman who does not want and deserve extra peace of mind.