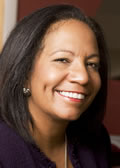 Grant-making is one of the ways CT Health achieves our mission to improve the health status of Connecticut residents. The Program Committee reviews and seeks grant applications, and thinks strategically about how we make our investments in the work of others.
As Board Member and Chair of the Connecticut Health Foundation (CT Health) Program Committee, Tina Brown-Stevenson (also Chief Clinical Information Officer at Optum Insight) says of her role, "it's facilitative– you're not the boss of anybody, as my teenagers would say."
Tina's work with the foundation began seven years ago with the Racial and Ethnic Health Disparities Policy Panel in 2005 (recommendations in English can be found here). For the past five years, she has served as a Board Member and participated on the Program Committee.
In this video, Tina describes how "program is at the heart of what we do" and how the committee has learned over time.