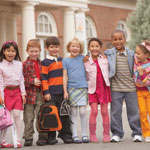 It's important to spot mental or behavioral health problems early in children, identifying and intervening before they need more intense treatment or end up in the juvenile justice system. The Connecticut Health Foundation (CT Health) believes in taking a community-based approach to reaching children at risk of mental health issues.
To test this theory, we have a multi-year initiative that has fostered pilots or demonstration grants within four communities – Derby, Manchester, Middletown, and Waterbury. Each of these pilots is based in a school and links with community and services to identify and treat children showing signs of mental health problems.
Each pilot has structured itself differently based on its unique needs. May is Mental Health Month, and so we're featuring each of these communities every Tuesday throughout the month.
iCARE
iCARE (Intervening with Children At-Risk Early) is bridging the gap between African American students and their families, and the teachers and school administration at Middletown's Bielefield Elementary School. The Ministerial Alliance (MA) is a critical piece in developing trust between two groups that historically have been at odds in this community.
When interventionists at the school identify a child in need, they obtain permission from the parent to refer their child to services. Often parents choose to refer their child to a member of the Ministerial Alliance (MA). The MA is an entity outside of the school composed of African American faith leaders in Middletown. According to their website, one of their priorities is "Education, with a focus on presence and partnership with area schools and grants that are used to improve the quality of learning beyond the classroom."
Once the student is referred to the MA, the MA acts as the link and trusted partner between the family and the school, helping these groups work together for the good health of the child.
"The lack of trust has to do with racial balances. Uneducated parents of color who have to deal with the upper management of the school don't see people of their own race, and they don't feel comfortable interacting with those individuals," said Pastor Mitchell Wynn, member of the MA and iCARE. "Racism has lessened, but it's still there. I'm not ashamed to say it's still there. That's what CT Health is about, helping minorities to eliminate that disconnect between these two groups."
While interviewing Mitchell, he told a story about a little girl he had recently helped. The members of the MA mentor the children and parents, rather than counsel them. Mitchell's story was a powerful illustration of how iCARE works and how it benefits the kids.
Since January of this year, iCARE has expanded into Spencer Elementary School, and Deacon Lonzel Perry is the MA interventionist at the school. I also had the opportunity to speak with Lonzel, who told me that he's already seen enormous changing places in his school. "Administrators have told me that they couldn't get parents to call them back about their kids, but those same parents have called me. After we talk, they sign the permission slip for me to work with their kids. There's more trust there," said Lonzel.
Including the MA has been a powerful component of the iCARE team. They were featured in The Middletown Press for their model as being an antidote for scream rooms.
Now we turn it over to you. What questions would you have for Mitchell and Lonzel?