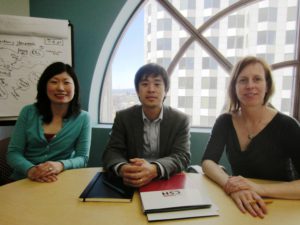 Today's guest post was written by Richard Cho and Sarah Gallagher of the Corporation for Supportive Housing (CSH).
CSH has selected the state of Connecticut as one of four sites that will take part in a five-year national initiative with the goal of addressing the growing problem of rising health care costs. The initiative will demonstrate an innovative solution that pulls people with the most complex health issues out of the revolving door of costly crisis health services and into supportive housing.
MCO, ACO, ASO, PCMH…National health reform's newly emerging landscape appears as a confusing mess of acronyms that conceals what is ultimately a rather simple idea—that the delivery of health care needs to be more accessible, better coordinated and patient-centered. The host of new organizational forms like Accountable Care Organizations and the Patient Centered Medical Home are all variations on a theme of re-centering health care around patients themselves.  Like the small town doctors of the past, it's about bringing health care back "home."
The irony in all of this is that the concept of "health homes" and "patient-centered medical homes" falls apart if and when patients don't have an actual home. For people bouncing between the streets, shelters, jails, hospitals and drug treatment programs, health care coordination becomes a Sisyphean task: how do you coordinate care for people you can't contact or locate?
We've long known that the subset of individuals who have experienced homelessness the longest have high rates of chronic health conditions that contribute to, stem from, or are exacerbated by homelessness. Serious mental illness, HIV/AIDS, addiction and substance use disorders, renal disease, diabetes…the list goes on.  And with half of Connecticut's Medicaid beneficiaries and roughly 57% of people experiencing homelessness in Connecticut are African American or Latino, it seems that the same racial, ethnic, and economic barriers that increase vulnerability to chronic conditions and limit access to health coverage also limits access to safe and stable housing.
We've also discovered that many of these homeless individuals are also the most expensive users of crisis health services, responsible for driving up Medicaid and other public spending on health care.  A recent analysis identified approximately 400 homeless individuals in Connecticut who each use nearly $68,000 in Medicaid costs a year, most of which comes from costly inpatient hospitalizations and emergency room visits.  That's $28 million a year in taxpayer dollars that we are spending to let 400 individuals remain homeless and cycle in and out of emergency rooms and hospitals all the while experiencing worsening health status.
Supportive Housing Improves Health, Lowers Costs
Research strongly suggests that providing an integrated package of affordable housing, care management, and coordinated primary and behavioral health care can help these individuals permanently exit homelessness and improve in health status, while reducing public costs.  Studies have found Medicaid reductions exceeding 41% in just a year after being placed into supportive housing.  For Connecticut's 400 high-need, high-cost homeless individuals, that level of reductions would equal nearly $11.7 million per year!
Building the Evidence and Blueprint for Replication
It's the promise of improving health at lower cost that drove our team at CSH to launch a national demonstration project piloting and testing integrated models of housing and health targeted at the highest-need, highest-cost homeless individuals with chronic health conditions. Spurred by a federal Social Innovation Fund grant, CSH is awarding a total of $1.4 million a year to teams of organizations in San Francisco, Los Angeles, Ann Arbor, and Connecticut to pilot these models.  Informing this national demonstration are lessons learned from a planning effort we undertook under a grant from the Connecticut Health Foundation, in which we explored how to better serve homeless, high-cost Medicaid beneficiaries through partnerships between Federally Qualified Health Centers and supportive housing.  Through technical assistance, we'll be helping each community pursue strategies to find the most vulnerable and costly individuals in their community, provide them with affordable housing, and deliver a comprehensive and coordinated array of health and social services.  And to evaluate the impact of the four communities' models on health outcomes and health care costs, we've commissioned a team of researchers at New York University.  We hope to definitively show that this model is a better use of public resources–both improving health outcomes for vulnerable individuals and reducing Medicaid costs.
We're excited that Connecticut has been chosen as a site for this exciting national demonstration.  As the first state in the nation to adopt the ACA's expansion of Medicaid coverage and one of the first states to develop interagency systems for financing supportive housing, Connecticut is poised to lead the nation in truly bringing health care home.
Richard Cho is the Director of Innovations for the Corporation for Supportive Housing.  In this role, Richard works to oversee and expand CSH's portfolio of innovation and model development initiatives that pilot and test supportive housing adaptations for a variety of vulnerable populations, particularly those populations whose high utilization of publicly-funded services indicates crisis.
In her role at CSH (Director, Connecticut Program) Sarah Gallagher, Sarah works to increase the use of supportive housing as a public policy solution in CT.  This has included the implementation and project management of the Frequent User Services Engagement Program (FUSE), a supportive housing pilot program aimed to break the cycle of homelessness and incarceration for frequent users of jail and shelter, as well as assisting the State of CT, health care providers and supportive housing providers to integrate health care and housing for vulnerable populations in CT.