Today's post was written by Vice President of Communications and Public Affairs Monette Goodrich.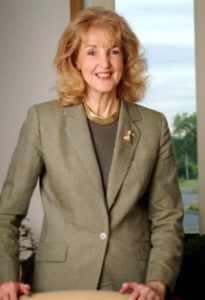 Magical music, touching tributes and playful personal stories infused the memorial service of Corine Thompson Norgaard, who died of pancreatic cancer June 4.  Corine, who I have known since 2001, served the Connecticut Health Foundation (CT Health) as a board member, Treasurer and Vice Chair.
Friends, colleagues, family and the many others Corine touched during her 73 years gathered to celebrate her life on June 18 at the Storrs Congregational Church.  Wishing to honor Corine's significant impact on CT Health, several staff and board members attended the uplifting, yet poignant service including Board Chair Sandy Cloud, Vice Chair Marty Gavin, Program Committee Chair Tina Brown Stevenson, President & CEO Patricia Baker, Vice President of Finance & Operations Carol Pollack, Vice President of Communications & Public Affairs Monette Goodrich, and Office Manager Yolanda Wilson.
Vocalist Linda Tracy beautifully performed several songs – If Ever I Should Leave You, We'll Sing in the Sunshine and Somewhere Over the Rainbow — amid remarks by friends, neighbors and a former colleague.
Yellow, Corine's favorite color, epitomized her sunny disposition and bright outlook on life, said friend Cynthia Adams.  In fact, the Brownwood, Texas, native and proud owner of a little yellow pick-up truck, even named her favorite mode of transportation "Sun Beam."
Corine started her illustrious career in academia at the University of California Los Angeles, mostly because women could not find positions in the male-dominated world of accounting in the 1950s and 1960s.  From California, she taught at the University of Connecticut and several other universities including Yale University.  After a distinguished teaching and publishing career, Corine became Dean of the School of Management at Binghamton University and, later, the Dean of the Barney School of Business at the University of Hartford.  In 2005 she left academia to manage RetirementOptions, a business that trains retirement coaches.
Priscilla Douglas, who worked at the University of Connecticut with Corine starting in the 1960s, remembered her friend as a "lunch and shop 'till you drop partner."  Everyone who knew Corine will remember that she always looked elegant and perfectly dressed for every occasion.  Corine's motto, according to Priscilla, was to "always look better than you have to."
But looking good never interfered with the important job of mother and wife, said friend Janet Jones.  She recalls a story about Corine, who unceremoniously dumped a bag of rice on her living room floor (while sporting a chic cocktail dress), so that her young son, Thor, and the babysitter would have some interesting terrain to maneuver their Tonka trucks as Corine, and her husband, Dick, went out on the town.
While Priscilla Douglas and Corine may have consulted one another about fashions of the day (sewing their own mini-skirts), they also set annual personal and professional goals.   "She was a leader, not just a manager," Priscilla said, adding that Corine saw potential in everyone.  CT Health's Carol Pollack also recalled after the service that Corine "embraced the role of mentor."  Corine approached the support, encouragement and development of other professional women as her responsibility and contribution to the women's rights movement.
Throughout her busy career, Corine served on many corporate and volunteer boards, including Advest, a variable annuity at Aetna, a mutual fund at ING, Babson Capital at MassMutal, Joshua's Trust, the Northeast Alliance, Windham Memorial Hospital, among many others.  Her passion, intelligence and commitment to excellence were manifest in her very significant contributions to these organizations.
Corine, who was described by one of her friends as a "small town girl at heart," also thoroughly enjoyed her two dogs and the outdoors.  Long-time neighbor George Cole hiked with Corine every morning at either 6 a.m. or 6:30 a.m. (sometimes wearing a "miner's hat" with an attached light).  During this daily constitutional, she would often marvel at the beauty of the many varieties of flora and fauna that surrounded her Mansfield Center home.
While everyone attending the memorial service has a special memory of Corine, I'm sure everyone would agree that she made an ever-lasting impact on the lives of others.  In memory of her extraordinary life as academic, business woman, friend, colleague, and family, donations may be made to the Corine T. Norgaard Women in Business Lecture Series at the University of Hartford (200 Bloomfield Ave, West Hartford, CT 06157) or to the Corine T. Norgaard Fund for Healthcare Excellence at the Windham Hospital Foundation (112 Mansfield Ave, Willimantic, CT 06226).