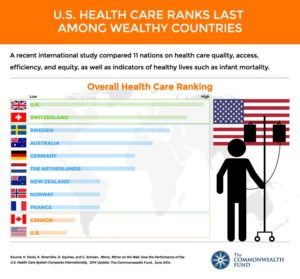 "The United States health care system is among the most expensive in the world, but that doesn't mean it's good."
The Commonwealth Fund recently released the results of a study, "Mirror, Mirror on the Wall, 2014 Update: How the U.S. Health Care System Compares Internationally." If you take a glance at the infographic from the Commonwealth Fund below, you'll quickly realize: we don't.
Amanda Cuda, reporter for the Connecticut Post, sums it up in her article heading: "U.S. health care at bottom of the class." Cuda interviewed, among others, our vice president of policy & communications, Elizabeth Myung Sook Krause.
Infographic used with permission from the Commonwealth Fund. Please visit their site for a high-resolution version.