Today's guest post was written by Yolanda Wilson, Office Manager at the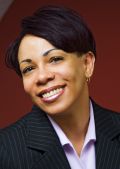 Connecticut Health Foundation.
As the Officer Manager here at the Connecticut Health Foundation(CT Health), I have a lot to do. I keep the books, process payroll, supervise employees, maintain and manage all the office equipment, and provide administrative support to the board – just to name a few.
I'm also the day-to-day support person for technology issues that arise. And if there's one thing we know it's that technology issues ALWAYS arise. You can have the latest-and-greatest, but technology will find a way to glitch when you least expect it. And here I had thought technology was supposed to make our lives easier.
I'll be honest:   Tech support is part of my job and I really enjoy it because there's so much to learn, and it gives me the opportunity to grow my skill-set. But I'll be honest again: it can also be time-consuming! Here's how a busy woman like me balances everything.
Love what you do. The right mindset is everything. Looking at the rapidly changing world of technology could be overwhelming, but I embrace it. I have a saying – be like water and go with the flow. Sometimes it's smooth, sometimes there're ripples, and then there are the rocks.  Do you go around the rock, or over the rock? Being flexible about the inconveniences of life makes it easier.
First things first: solve the problem. If your colleague is having a tech problem, don't over think it, just get our colleague up and running. Later, you can learn more about what happened and why.
Just call me Nancy Drew. Meaning, think like a detective! And think of yourself as a detective too. Solving technology problems is just that: problem solving.
Use your resources. Like me, you probably have a wealth of resources at your disposal: staff, consultants, internet searches, magazine articles. Use them. I also love NTEN and TechSoup.org. Don't be afraid to ask questions or ask for help. Hey, I'm not afraid to admit I read For Dummies ! (And please let me give a shout out to my IT team of Carol Pollack, Hugh Brower, Michael Pelletier, and David Hale who have taught and helped me so much).
Put your software to work. Are you really getting the most out of your technology? For example, I use the heck out of some Microsoft Outlook colored labels. Red is for urgent, and everything else is broken out by activity. This system really helps me prioritize, organize, and stay productive.
We're on an exciting journey with the rapidly advancing world of technology, but it can be scary sometimes too. Which brings me to my most important tip: don't forget the espresso and the deep breaths.
What do you do to keep technology working for (and not against) you?