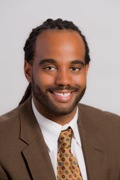 He wanted to make a big impact on the issue of racial and ethnic health inequities, so Francisco A. Lopez, PhD, joined our Health Leadership Fellows Program. I interviewed Francisco, who is a Connecticut Health Foundation (CT Health) Leadership Fellow, Class of 2013, and Clinical Psychologist and Psychological Evaluator, Fair Haven Community Health Center, to get his perspective on how the program influenced his career.
We're currently recruiting for the Class of 2015. Learn more here.
Jenn: Why did you apply to the program? What interested you?
Francisco: When I first learned about the program, I was mostly doing on-the-ground clinical work: treating patients. As a Spanish speaking Black Latino, I was very directly targeting some aspects of health equity, for example expanding access to care by actually providing care. Of course by providing care, I was aware of racial and ethnic health disparities every day. However, I was aware of it from the larger systems perspective.
I wanted to make a bigger impact on the issue, and I expressed that to the people around me. Fortunately, Dr. Franks of the Children's Health & Development Institute (CHDI is a consultant to the foundation) and Michelle Silva who is a Fellow from the 2011 class both urged me to apply because they knew I could refine my systems-level thinking and have broader reaching influence.
I've moved now from treating individual patients to also treating the infrastructure surrounding the patient to make it work better for the patient and the people serving them.
Jenn: What value did you get out of your experience?
Francisco: If you think about it, it's a neat little social experiment. You put 20 people together for 10 months. They're all trying to accomplish the same thing – health equity for people of color – but they're coming at it from different perspectives. There were managers, clinicians. Some came to the work because they were consumers themselves.
Through the process of the program, I realized, these 19 other people in the room are my stakeholders. These are the people I need to cultivate relationships with and influence so that we can all go out together and do this work. Every time we met, I was learning and practicing these skills.
Jenn: What value have you found from being a part of the Fellows network?
Francisco: I admit I've found it a little harder to stay connected, which really is just a function of life.  But I find tremendous value in the network. I read many of the posts in our LinkedIn group even if I don't comment too frequently. It keeps me informed about what my fellow Fellows are up to. I also reach out to several of them individually on occasion. After speaking with you, I am motivated to reach out more.
Jenn: What impact has the program had on your career?
Francisco: While I wish everyone in this work had the same perspective as me and my other Fellows, the truth is that to expand health equity, we have to talk to and have relationships with people from different perspectives. That's more difficult to do, but it's essential that we do it.
One of the skills I learned and use frequently is how to identify a common value with such an individual. I look for that shared value in them and their work. The program helped me think about, how can I find that value? How can I build a relationship with this person? And over time, how can I influence them? Or let them influence me?
Also, I definitely refined and expanded the systems-level thinking that I had signed up for. I apply systems thinking now in just about everything I do. If I'm sitting in a conference room with a group of people, and someone makes an observation, my response is grounded in the potential impact to the system, and not on the individual making the observation.
Jenn: What were some highlights from your fellowship year?
Francisco: During one of our retreats, Larry Finison (Larry is a consultant to CT Health) spoke at length about data. Not just data, but the missing data. There's the data we have, but we also have to look at what's missing and what we're forgetting, or ignoring.
Rinku Sen of Race Forward (formerly the Applied Research Center) was great. Her idea about readjusting your definition of racism and health equity really affected me.
While we don't have to accept individual racism, it's not always helpful in these conversations to talk about who is and isn't a racist. Instead it's better to focus on what is causing racial inequity. When we change the focus from personal prejudice to institutional inequities, we can focus on the systems that perpetuate the inequities that lead to personal prejudice.
The most inspirational, however, was the talent among our group. Yes, we all wear the T-shirt that states 'I am a health equity champion', however we are more than that. We are people, with a history, with interesting personal lives, and amazing talent. That was evident during our talent show.
Jenn: What would you say to someone who was thinking of applying?
Francisco: If you're interested in learning about and addressing health equity for people of color in a large-scale way, the Fellowship is the place to be. If you are interested in being challenged and nudged outside your comfort zone, in the interest of growing your leadership skills, this is the place to be.
If you agree with Francisco, apply today. We're accepting applications for the Class of 2015 until April 1, 2014. Questions? Email jenn at cthealth dot org.