Today's post is by Millicent Cripe, Policy Intern
On June 18, 2015, the Health Leadership Fellows Program reached a tremendous milestone.  We celebrated the graduation of the 10th group of fellows! The Class of 2015 was a diverse group, from various professional fields and across Connecticut, bonded by a shared dedication to achieving health equity by eliminating health disparities. After the 10-month program, they officially become fellows with new knowledge about the importance of policy and systems change in the fight for health equity. And most importantly, the fellows have developed and deepened their leadership skills so that they might be effective change agents and leaders. Now they are part of the fellowship's alumni network of nearly 200 leaders and potential partners.
Before the commencement ceremony, the fellows presented their final group presentations. Divided into four groups, they were given wide parameters and were invited to be creative in their presentations. We wanted to know what stories about health equity leadership and systems change emerged from their small groups—the stories of where they are going with their health equity leadership, and how we might creatively get there. The fellows took full advantage of the creative control, each group presenting a unique story.
Although words cannot capture the fellows' passion and energy, here are brief overviews of their presentations. Three of the groups chose to use skits to illuminate how they would apply their new leadership skills to push for health equity systems change, while the last used powerful and personal self-reflections.
Group 1: The Game Changers
Members (from left to right): Stella Ntate, Andrea Silber, Maya Welfare, S.B. Chatterjee, Russell Melmed, and Eric Rey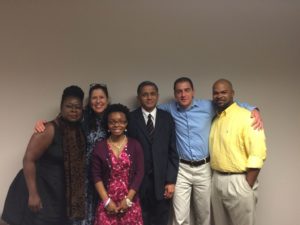 Presentation: In the skit, Russell, Andrea, and S.B. are involved in a State Innovation Planning committee. S.B. keeps pushing the importance of considering health equity when working on SIM and acts as an advocate embedding health equity into systems change. His relentless advocacy annoys Andrea, who complains to Russell—who, in a chain of annoyance, is annoyed with Andrea. But then Russell participates in the CT Health Fellowship program, where he learns the important skill of separating an important message from an evaluation of the messenger. He is able to use his leadership skills to help Andrea get past her issue with S.B., and see the value in what he has been saying all along.
Takeaways: This skit showcased the essential leadership tool of being able to separate an important message from a bothersome messenger. While not a glamorous part of leadership, the group felt that this skill was an important part of the interpersonal relationships leadership toolkit that would make them effective advocates for health equity.
Group 2: Health Equity Guardians
Members (from left to right): Stacy Ann Walker, Jeanette Goyzueta Rhodes, MaryAnn Perez-Brescia, and Faina Dookh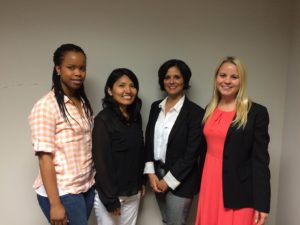 Presentation: This skit showed Faina, Jeanette, Stacy and MaryAnn as members of a hospital's Health Equity Committee, which meets quarterly. In the first meeting, MaryAnn is trying to serve as a strong health equity advocate, but is unsuccessful: she brings up the case of "Mr. Ortiz," an undocumented immigrant who is languishing in the hospital with kidney failure, but the meeting ends without any action. MaryAnn was accusatory, and the other women become defensive, and nothing is done. In the second meeting, MaryAnn succeeds at generating empathy for Mr. Ortiz's case. Faina announces that she alone will solve the problem—an unsustainable solution. In the third meeting, MaryAnn is successful because she helps every committee member connect personally to Mr. Ortiz's situation and to consider what they, with their individual talents and expertise, can do. They make a plan. So by the fourth meeting, they've not only helped Mr. Ortiz, but begin to implement a strategy of policy and systems change, so that cases like Mr. Ortiz will not remain unresolved in the future.
Takeaways: This skit helped illuminate the "leadership circle" model they studied in the fellowship. An advocate like MaryAnn was ineffective in the first stage because she took a position in the leadership circle that resulted in the other committee members being defensive and reactive. When she worked collaboratively with the other members, however, they were able to find solutions that utilize the talents of every group member.
Group 3: Change Links
Members (from left to right): Kenny Feder, Alice Ferguson, Phyllis Odoom, Connie Alleyne, and DeLita Rose-Daniels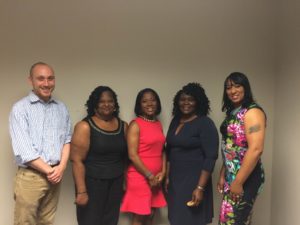 Skit: The third group presented a skit of a scenario in which a health equity problem in the correctional system might arise, handled two ways. In the first version, Phyllis plays a woman with HIV who is going to be released from prison. Despite her determination to keep her HIV well-managed and stay healthy, she cannot get the support she needs. She meets with Connie, a prison official who won't take any responsibility for her case; Connie tries to pass responsibility to DeLita, a transitional case manager (TCM) who can't meet with Phyllis until weeks after her release; Delita turns to another community agency, where Alice lists the extensive layers of red tape that Phyllis will have to cut through before she might receive help. In sum, this system was set up to fail. Then the group presented a second version of this scenario, one where the transition is handled effectively—Phyllis receives guidance and support from the prison officer, Connie, who in turn can turn to DeLita and Alice to set up timely healthcare and social services. In this version, the correctional system is set up to help Phyllis successfully transition away from incarceration. And in the final scene, Phyllis is telling her story before a government committee in charge of appropriations for the exact programs that helped keep her a health equity success story, rather than a health equity problem.
Takeaway: This skit illuminated the importance of systems change as the road to health equity—all of the pieces of the system, not just one piece, had to work together to achieve a more equitable result. Additionally, the final scene showed the importance of leaders working from within an affected community or empowering affected individuals to be their own advocates. Indeed, the group felt that "empowerment" was the one word they'd use to describe the lesson of their skit.
Group 4: Promise of Leadership
Members: Jacqueline Ortiz Miller, Fernando Morales, Tonya Irby-Langley, Venton Forbes, and Tevonne Ellis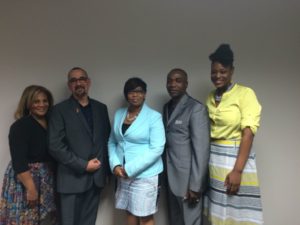 Presentation: This group was supposed to go first, but requested to go last—and they could not have presented a more meaningful end to the presentations. Instead of a skit, the group asked everyone in the room to form a big circle with their chairs. Then each member gave a presentation—some standing still, others walking around; some speaking quietly, others raising their voices. Jaqueline went first: she eloquently explained the dimensions of the fight for health equity, promising to be "courageously authentic" and to continue to use her voice because people are dying from lack of access to quality healthcare. Next came Tonya, who moved around the circle, challenging the group to be active in the fight for health equity, to not be afraid to take risks. The next two captured the ups and downs: Venton optimistically spoke about the personal growth of each fellow and how they were positioned to pursue excellence and create change with their new knowledge; then Fernando voiced the natural doubts that each fellow experienced, but shared the wisdom that "the best known cure for fear of failure is taking action". Finally, Tevonne reflected upon the way forward after this program, and the "leadership legacy" that the group could hope to create with their new skills.
Takeaways: Collectively, this group told the larger story of the fellows' journey through this program. At the end of the presentation, there were much fewer dry eyes in the room—they had spoken honestly, and their words captured the truths of many of the fellows in that room. After watching all of the presentations, and concluding with this one, we know that each fellow is ready to enter the world as a fierce and effective health equity leader.