Today's guest post written by Joanna Douglass, BDS, DDS, consultant to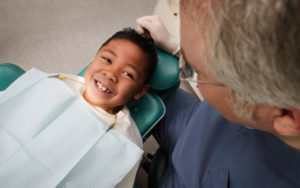 the Connecticut Health Foundation.
I'm a dentist, so of course I think good oral health care is important. It's not just something I know through my training. I know it because every week, I see the effects of untreated dental disease when I'm caring for patients.
Some startling facts:
Across the country an estimated 4 to 5 million children have dental problems severe enough to wake up with a toothache—or fail to sleep because of one.
Dental decay is the single most common chronic childhood disease – five times more common than asthma.
Increasing evidence supports observations that poor oral health can have wide effects on overall health problems, ranging from premature delivery to cardiac disease.
And yet, oral health disease is highly preventable through early and consistent interventions. Kids don't need to suffer.
Low-income children are much more likely to suffer oral health disease but are also much less likely to obtain dental care.* Historically in Connecticut, a significant barrier to care for kids on HUSKY A (Healthcare for UninSured Kids and Youth), the state's Medicaid program for low-income families, was low private dentist participation. Many providers cited low reimbursement rates and cumbersome program administration as obstacles to treating children insured under HUSKY.
Most people were sure that increasing those reimbursement rates would result in more children enrolled in HUSKY receiving dental care. Based on 2008 lawsuit settlement agreement, those reimbursement rates increased significantly. The agreement also addressed other barriers to care.
With the rates raised, did it result in kids getting the dental care they needed? In 2011 we announced a partnership with the CT Department of Social Services to analyze utilization data and shared the preliminary finding that yes, more kids went to the dentist. You can download the brief itself here: "Impact of Increased Dental Reimbursement Rates on HUSKY A-Insured Children: 2006-2011."
If you too want low-income children to have good oral health, please share this post with your social networks.
*/wp-content/uploads/2011/04/Oral-Health-Report-2001-2.pdf