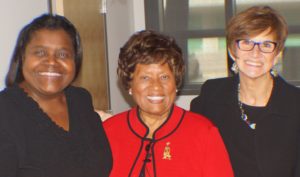 Two weeks ago, the Connecticut Health Foundation (CT Health) hosted an event on the topic of health equity and what part of the health equity spectrum we're working on. The event was conceived in response to not a few reporters telling us they wanted to deepen their knowledge of health equity and its connection to health reform. Additionally, Larry Tye, former reporter for the Boston Globe, spoke to invited leaders across the state to learn more about working effectively with reporters, as well. Full agenda from the program is here.
We have an evaluation form that we use at the end of every event to gauge how useful / successful the event was. This program was no exception. The feedback was largely positive, but for us, the most exciting measure of success were the stories that came out of the program. Dr. Joycelyn Elders, former US Surgeon General, and Suzanne Bohan, co-writer of an award-winning series on health disparities Shortened Lives: Where You Live Matters, along with panel members, created a lot of conversation about health equity. Here's the roundup.
CT Health is excited to see these journalists amplifying the conversation about health equity in Connecticut. What are the next steps? How do we continue this conversation?
More photos from our event are available on our Facebook page.
Photographs taken by Tom Ficklin of Ficklin Media Group.