Today's post is by Joanna Douglass, BDS, DDS, CT Health's long-time oral health consultant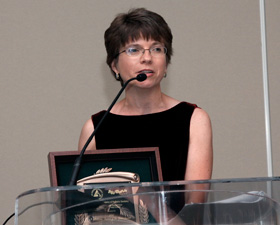 Background (By Elizabeth Krause):  There are consultants and then there are CONSULTANTS.  CT Health staff often say we want to clone Dr. Douglass because of her rare combination of expertise in all aspects of children's oral health — public health, clinical care, workforce training, policy, financing, and research.  Join us in recognizing Joanna's contributions and wishing her the best.

It is with bittersweet feelings that after 15 years of consulting for the Connecticut Health Foundation I will be leaving. I have been proud to work with such committed people both here at CT Health and in the greater community. Through everyone's hard work over the last 15 years so much has been accomplished in oral health. Currently Connecticut ranks as #1 in the nation for access to care for children on Medicaid! This is a tremendous accomplishment. Connecticut was one of the lower ranked states for children's access and a huge amount of work was required to achieve such success. I feel privileged to have been a small part of that story.

I have been contemplating a change of career for some time. I have worked in public health policy for almost 20 years and now feel called to work more directly with patients. For several years I have been pursuing, very part-time, the process of becoming a hospital chaplain. I feel the time has now come for me to commit more fully to that process. I will be working towards obtaining a Masters in Divinity and completing the required clinical chaplaincy training. I will begin my next unit of chaplaincy training in January.

I will miss working with all of you to improve the oral health of Connecticut's children. I have so valued the relationships formed over so many years! But I'm not completely leaving oral health. I will continue to work with dental residents and special needs patients at Connecticut Children's Medical Center.

I am excited – and a bit apprehensive – to move on to this next step in my life.