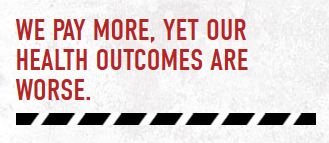 Last week, the Policy & Communications team met with reSET, a Hartford-based organization committed to helping entrepreneurs leverage the power of the free market to create public good. Interestingly, reSET is a nonprofit organization with 501(c)(3) status. We encourage you to learn more about them here.
We wanted to let you, our partners, know about their upcoming event to kickoff a series of conversations about reforming health care. You can Register Here.
This guest blog post was written by Rosie Gallant, Program Manager at reSET.
Connecticut communities are facing some really tough healthcare challenges: access, quality, and equity – just to name a few. Our healthcare system is deeply entrenched; there is opportunity for innovation in patient engagement, information technology, and increasing access to under served communities.
Could some unusual suspects shake out some unusual solutions?
Entrepreneurs have an important role to play in developing solutions to social problems. reSET is an organization that is committed to helping entrepreneurs leverage the power of the free market to create public good. Overcoming our healthcare crisis will take a village; reSET aims to help social entrepreneurs engage with the issues, and develop business models for change through our upcoming Social Enterprise Design Lab: Healthy Communities.
Our Design Lab is meant to spark ideas through a community conversation. The Lab kicks off on May 28th, with a free screening of the documentary, Escape Fire: The Fight to Rescue American Healthcare at the Connecticut Science Center.
At this event, engaged members of both the business and health care communities will connect, learn, and join in discussion. While the film raises important issues that concern us all, it doesn't leave us with a feeling of hopelessness — it inspires us to change the conversation from problem to solution.
About the Event
This event is totally free and open to all. It's an opportunity to connect and to be a part of the conversation. Please register here.
Following the film, reSET will facilitate a community conversation to spark ideas and cultivate innovation.
The Escape Fire Kick-Off is only the beginning…..
reSET's Social Enterprise Design Lab is a series of events in which  healthcare professionals, community organizations, and established or aspiring entrepreneurs will have the opportunity to connect and work together to improve our healthcare system through business. Guest speakers will highlight the role of entrepreneurship in the current state of our healthcare system through discussion on the major trends, challenges, and market entry points. The following workshops are just a few events we have planned for this summer;
Creating Access: June 4th  A workshop to explore how health focused community organizations are developing business models to both serve and engage CT residents.
Developing Leadership in Health Care Quality & Equity: Dates TBD This roundtable discussion will feature a conversation on health equity.
Food for Thought: June 11th A workshop to highlight how regional food distribution, nutrition, and community health interact and how entrepreneurs can play an important role.
Innovator Forum: Dates TBD A series of roundtable discussions for health and wellness focused entrepreneurs to learn from business experts, from each other, and to work hands-on.
Student Design Lab: Date TBD A University student led challenge to develop ideas for healthier campuses and a healthier world.
For more information about these events and our Social Enterprise Design Lab: Healthy Communities, please visit our website: www.socialenterprisetrust.org
Who we are
reSET is a community of entrepreneurs, educators, innovators, investors and policy makers. We believe that it is possible to generate both purpose and profit through business.
We support social enterprise -businesses that are both sustainable and make a positive social impact. We also support social entrepreneurs-entrepreneurs who are passionate about solving problems, finding solutions, and positively impacting their community, our state, and the world.
Join us May 28th from 6:30 pm – 9:00 pm at the CT Science Center
Click here to Register Here