Today's post is by Millicent Cripe, Policy Intern, and Elizabeth Krause, VP of Policy and Communications
As a funder, we require interim project reports from our grantees. In that spirit, we share an interim report from our Listening Project.
Last week, with the help of our partner Christian Community Action, we hosted a listening event in New Haven where we got the chance to hear directly from real consumers about their experiences with health insurance coverage.
The Listening Project was designed to start a conversation with Connecticut stakeholders around a simple question: now that almost 97% of Connecticut residents have health insurance coverage, how do we ensure that this coverage leads to high-quality healthcare and health equity?
This listening event was an important chance for us to hear about the challenges and potential solutions to using insurance coverage directly from the consumers—the people that many of our grantees work with on a daily basis, but whose voices and stories we want to hear directly to inform our work. Attendees were a mix of HUSKY and Access Health CT plan consumers, all willing to share their personal challenges and, even more importantly, their lived insight about what resources they need to use their coverage more effectively.
A few key themes emerged from the lively and honest conversation:
Health care consumers need information and education at the pivotal points when such information would be most valuable and when they would be most receptive to it
Parents can best be reached if the information comes through the places they'll be or the things they'll be reading because of their children: information about adult service along with information about kid's services or within school registration material, for example
Social networks are important source of trusted information within a community
Participants discussed how provider networks might be more adequate and timely appointments more abundant if

ALL

clinical providers shared some reasonable level of obligation to care for people covered by ALL forms of insurance
Equipped with the insights that the listening session's participants offered, it's our job as a foundation that changes lives by improving systems to translate individual-level ideas and challenges into the systems-wide solutions that will help ensure that health insurance coverage actually translates into high-quality care. We've made the first step in Connecticut with our successful coverage efforts; but now coverage success must be redefined by how well people are using it.
Read the New Haven Independent's coverage of the event:  "These Forms Make No Sense"
Have ideas and insights to share?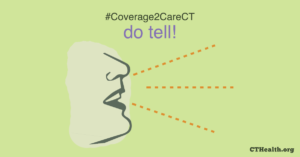 Comment below
Join the Twitter conversation using #Coverage2CareCT
Stay tuned for info about our second listening event that will be held in New London in the second half of September