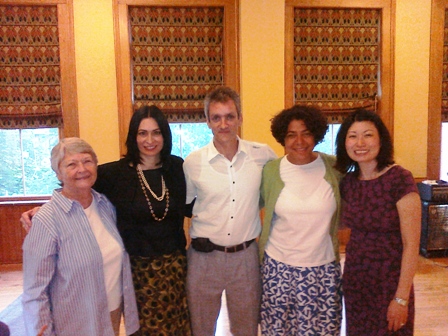 Meet Gerardo Sorkin (he's the one in the middle), faculty member of the Connecticut Health Foundation (CT Health) Leadership Fellows Program.
Gerardo, who hails from Argentina, holds individual coaching sessions with each participant throughout the 10-month class.
Much of the learning that occurs in our Leadership Fellows Program occurs in a group, either during class, or in coalition work. But the coaching sessions with Gerardo are one-on-one, and allow our leaders to think about their skill development in an intentional way.
In this video, Gerardo shares what you can expect when you participate in coaching sessions with him.
One thing you don't get in this video is Gerardo's irreverent sense of humor. An ambulance drove by, and I had cautioned Gerardo that if a siren went off in the background I would have to stop filming. Gerardo didn't miss a beat. He started comparing the urgency of the ambulance to the urgency of our work together as health equity leaders, trying to persuade me to leave that part in.
What does come through is Gerardo's big heart and commitment to your development as a leader. Apply to our program today!