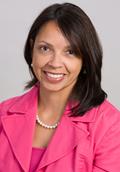 Today's blog was written by Yolanda Caldera Durant, senior program officer and program director of the Health Leadership Fellows Program, Connecticut Health Foundation
Colleagues and Partners,
In order to be more involved in the care of my aging parents and to improve my quality of life, I have decided to transition away from my position as senior program officer and program director beginning July 17.
I have enjoyed my work with the Connecticut Health Foundation (CT Health) immensely.
I am honored to have had the opportunity to join CT Health in 2013 as a senior program officer charged to help build—in partnership with the foundation's staff—the health equity grants portfolio and to leverage opportunities that advance health equity through healthcare reform.
The timing for my work with CT Health was ideal given the arrival of the Affordable Care Act and all the promise that it holds for making healthcare better. This may seem like it was a straight forward proposition, but a lot of effort has been required to:
• identify and cultivate effective partnerships
• unearth opportunities that truly transform the health care delivery system
• ultimately eliminate racial and ethnic health disparities
Through this work, I have been able to further expand my adaptive leadership abilities and work with ambiguous concepts to give them shape and meaning in this new era of health reform. I have also learned that models and strategies that may work in other states aren't necessarily going to work in Connecticut, making customized solutions essential.
As Program Director of the Fellows Program…
In 2014, after graduating from the Health Leadership Fellows Program, I was promoted to serve as the director of the program. I've had the distinct pleasure of leading the 2015 class, which is CT Health's tenth cohort! This diverse, energetic, smart and dynamic ngroup of individuals from all over Connecticut brought a wide array of perspectives and experiences to the class. I have learned a lot from them, and I'm excited to see them graduate this month and take their health equity leadership impact to the next level. As I've told the 2015 class and the Fellows alumni, even though I'm leaving the Connecticut Health Foundation, I will ALWAYS be a Fellow.
While I will begin the transition from my role as senior program officer in July, I will return in September through mid-November to focus exclusively on the redesign of the Health Leadership Fellows Program. My goal is to further align the program with CT Health's strategic focus on systems change in order to expand health equity. This work is being guided, in part, by the recently completed 10-year program evaluation conducted by Innovation Network. CT Health is entering a new and exciting phase for its leadership development strategy, and I am happy to contribute to that effort.
I will remain in Connecticut. So I look forward to seeing many of you in my continued work in health and social justice.
Thanks for all of the important work that you do to help improve the health of ALL Connecticut residents.
Have a great summer!