Today's post was written by Jennifer Herz, assistant counsel of  the Connecticut Business & Industry Association.
Encouraging workplace wellness is a great way, to not only encourage a healthier lifestyle but also create a strategic advantage. Healthier employees show up to work more often, are more productive and can increase your bottom line.
Not convinced that your organization needs it? There's more.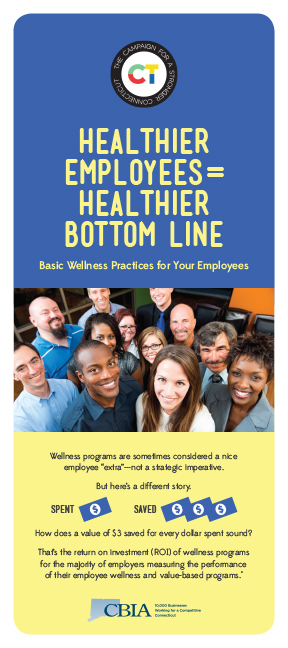 How does a value of $3 saved for every dollar spent on wellness campaign sound? Pretty good, right?
That's the return on investment (ROI) of wellness programs according to one study measuring the performance of employee wellness and value-based programs.*
Another study found that in addition to medical costs dropping by $3 for every dollar spent on wellness programs, the absenteeism costs also fall by $2.73 for every dollar spent.**
Healthy employees with high presenteeism are not only more productive, but are also happier and less likely to quit.
Here's another look at the numbers.
So the question is – what does a workplace wellness initiative look like?
As the official business partner of the Campaign for a Stronger Connecticut, the Connecticut Business and Industry Association (CBIA) reached out small employers across the state and across industries offering free and fun ways to engage employees, all in an effort to eliminate workplace health disparities
Wellness initiatives are no longer about offering a discounted gym membership but about creating and encouraging healthy habits for employees. A major challenge when implementing wellness campaigns is the time and financial commitment – something many employers noted was an obstacle in initial focus groups.
Through the Campaign CBIA offers a free, six-month, ready-made wellness plan called "Creating a Healthy Relationship with Yourself" that gives employers easy-to-use, interactive materials, including innovative communication tools.
Each month in the program has a new theme including:
Do It (Sneeze) In Your Sleeve
Make a Date with Your Doctor
Let's Get Moving
Know Your Numbers
Dealing with the Issues
Make a Commitment Moving Forward
Many companies have already signed on to the program and there is still time for your company to benefit as well from this free toolkit!
Some employers have even taken it upon themselves to get more creative. In a recent contest, CBIA asked companies to submit their own wellness ideas; Plastic Design International (PDI) of Middletown – a family-owned manufacturer with international sales – was the drawing winner and awarded $500 through the Campaign for a Stronger Connecticut to create an employee-community vegetable garden.
""For us to be successful, we need to have our employees stay healthy," said Yvonne Ledoux, corporate vice president for PDI.
"The garden idea is getting a great response and we feel it will have many benefits for the whole company."
FOX-CT paid a visit to PDI to document their story. Watch here.
Health and wellness in the workplace doesn't have to be boring, invoke eye rolls or cost a lot of money. It's about creating fun and engaging opportunities, and getting everyone involved.
This initiative was funded by a grant through the Connecticut Health Foundation aimed at reducing health disparities. You might ask – why target small business owners to do that?
The workplace is where most people get their insurance, and if they don't have insurance, the workplace is where people spend a good part of their day. The initiative appealed to employers because it directly impacts their bottom line, giving extra incentive to an employer to implement and encourage workplace wellness.
If you can save some money while increasing the health of the workplace, well what's better than that?
The Connecticut Business and Industry Association is the official business partner of the Campaign for a Stronger Connecticut, an initiative designed to eliminate health disparities among Connecticut's workplace. The campaign is funded by a grant from the Connecticut Health Foundation to Third Sector New England, and managed by GALEWill Design.
For more information on CBIA's wellness initiatives, visit www.cbia.com/strongerct
*Healthcare Finance News, September 10, 2012
**Workplace Wellness Programs Can Generate Savings, Health Affairs, Feb. 2010