Today's post is by Geralynn McGee, health equity fellow at Greater Hartford Legal Aid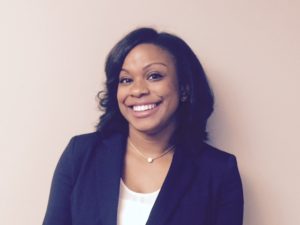 My path always included advocacy for underserved populations, such as adults with mental illness, women recently released from incarceration, and women in recovery from substance abuse.  After six years of this type of important community advocacy, I decided to add to my tools to help underserved populations and challenge myself academically. I went to law school.
During my last year in law school, career services posted a job announcement for a health equity fellow with a focus on oral health.  The job announcement described a two year fellowship with Greater Hartford Legal Aid, in partnership with the Connecticut Health Foundation, with the purpose of gaining leadership knowledge and skills on how policy change and advocacy can be used to effectively advance oral health equity.  In plain language, "health equity" means ensuring that everyone has equal opportunities to be healthy.
As a law student you expect that the trajectory of your career will be roughly the following:  finally finish law school, graduate, pass the bar, begin your career as a new associate at a firm.  However, while loosely related to the law, policy advocacy is not the same as practicing law.  Similar to the narrator in Robert Frost's "The Road Not Taken," I had two paths before me.  I chose the health equity fellowship.
During this two-year fellowship, I will work in rotations with five organizations in Connecticut that have a demonstrated track record in promoting oral health.  My efforts to increase awareness of the importance of oral health to overall health will provide a focused lens through which I can better understand health care delivery systems, payment systems, and health inequities.
Fresh off my first rotation with the Community Health Centers Association of Connecticut (CHCACT), my assignment involved interviewing dental directors in the Federally Qualified Health Centers (FQHCs) across the state to uncover their sense of access and utilization barriers for their patients. Interestingly, dental directors cited low prioritization of oral health care as the primary barrier to utilization of services. They also cited the following barriers:
Patient Factors
Difficulty adhering to follow-up care
Low oral health literacy
Lack of childcare
Transportation challenges
Cost of care for those who lack dental insurance (i.e. sliding scale affordability)
Health System Factors
Workforce obstacles (i.e., availability of specialty providers, attracting providers to rural areas)
What's covered.  While Connecticut Medicaid includes dental benefits for children and adults, not all dental services are covered.
Administrative difficulty with prior authorizations
Divide between medicine and dentistry
As a follow-up to the interviews, I created a report that considers three categories of strategies: legislative, administrative, and grassroots advocacy. The next step is to establish an FQHC Oral Health Advocacy Corps, composed of FQHC board members and staff, to implement the strategies of the report as champions for whole person care that includes oral health.
Much like the narrator in "The Road Not Taken," I expect that I'll look back on the decision to take this fellowship as a defining moment, not only for the path that I chose, but the work that will result from this choice.
Stay tuned for a future blog post summarizing my assignment with the Connecticut State Dental Association.