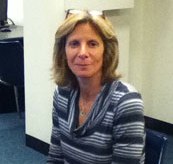 Today's guest post was written by Lisa Chedekel, a Pulitzer Prize-winning reporter for Connecticut Health iTeam (both Lisa and C-HIT are grantees of the Connecticut Health Foundation).
On the journalism treadmill, we health reporters are often propelled by the news of the day: Nursing Home Fined. Study Finds Children's Mental Health Care Lacking. VA Overwhelmed by Returning Troops.
Without realizing it, we tend to mirror the health care world we cover: We write for particular interest groups.
The challenge for journalists today is to make connections — to take specific situations and tie them into broader themes. It's hard to do, when there are so many different agendas in the health care world, many of them narrowly focused.
I have reported on mental health, elderly care, hospitals, nursing homes and health policy for much of the last 10 years– most recently, as senior writer and co-founder of a non-profit news site called the Connecticut Health I-Team (www.c-hit.org).
Many of my stories focus on systems — often, flawed ones. The military wasn't properly screening and treating soldiers with mental health problems. The state wasn't properly monitoring its largest nursing home chain. Recently, key health disparities between blacks and whites continue to worsen.
But the truth is, when systems break down, a large segment of the population doesn't care, because they're not directly affected. Not all systems are relevant to everyone. As a journalist, that's the challenge: how do you  make connections to readers through the stories you tell?
During my participation in the 2012 Health Coverage Fellowship, run by the Blue Cross Blue Shield Foundation of Massachusetts and supported by the Connecticut Health Foundation, I spent a week with people on the front lines of medicine and health. Here are some of the broader themes that I hope providers and journalists can work together to explore:
We are both good at identifying and publicizing problems, but not so good at identifying and publicizing best practices. A report comes out about asthma rates in cities, and we shake our heads that the problem still persists. Is there any initiative that we know is working, anywhere in the country? Let's talk about that.
Healthcare reform, by itself, is a not the solution to access problems. Just because people have insurance, it doesn't mean there'll be equity in care. We need to stop talking about the Affordable Care Act as if it's the last frontier of fixing the health care system. How can we expand the conversation?
Where have all the mental health advocates gone?? So many of our guest speakers acknowledged that the mental health system is broken — but when a mentally ill person commits a crime in our communities, or there is a spike in suicides, no one wants to talk about failures in care.
The most important lesson from the fellowship is simple: The only way we can report on key issues in health care is if people on the front lines are willing to talk to us about them. In case you haven't noticed, a bomb has gone off in journalism: There are not many of us healthcare reporters left! We need your help in finding new ways to tell compelling stories.
Let's work on the broad themes together.