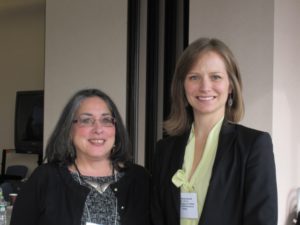 To treat mental illness in children, it's important to spot it early, identifying and intervening before more serious problems develops. The Connecticut Health Foundation (CT Health) has been  taking a community-based approach to reaching children at risk of mental health issues.
To test this theory, we initiated a multi-year grant program that has fostered the planning and implementing of pilots within four communities – Derby, Manchester, Middletown, and Waterbury. Each of these pilots is based in a school and links community and medical services to identify and treat these children.
Each pilot has structured themselves differently based on their unique needs. May is Mental Health Month, and so we're featuring each of these communities every Tuesday throughout the month.
Parents play a key role in the mental health of their children. The more positive that relationship is, the better the child's mental health is.
To help parents in the Lower Naugatuck Valley have better relationships with their children, the Derby pilot, Valley Kids Belong (VKB), has had explosive success in using the Positive Parenting Program (Triple P). VKB is based in Irving and Bradley elementary schools are then referred (if necessary) to the Lower Naugatuck Valley Parent Child Resource Center for intervention.
Each of CT Health's pilots uses a different therapeutic model for working with kids who have been identified as at risk of having a mental health issue. Triple P is a multi-level framework that reinforces good behavior while discouraging negative behavior. Based on need, parents can give their children the appropriate level of intervention when facing a challenge.
Laura Mutrie, LCSW, Director of Clinical Services at Lower Naugatuck Valley Parent Child Resource Center, recommended the evidence-based Triple P model for VKB during the planning stage.
"Parents who go through the program are going to learn to enjoy their children," said Laura. "When kids live in an environment where they know they're valued and that their parents like them, those are resiliency factors."
Laura has seen, in her words, "huge" differences between kids in therapy with Triple P and those in therapy without Triple P.
In this video, Laura discusses not only how the program works – but how the model has become so popular it has "gone viral" as she says. She describes herself as an evangelist for the program.
The Parent Child Resource Center in Derby has the only Triple P-certified group facilitators in Connecticut. Laura and the Project Director, Millie VandenBroek, were invited to discuss their implementation of Triple P at a convening held by Department of Social Services (DSS) Commissioner Roderick Bremby and the Children's Trust Fund Executive Director Karen Foley-Schain to discuss a statewide Triple P initiative on January 25 of this year.
Since then, Hartford and Willimantic have been chosen by the Children's Trust Fund as test sites for the roll out of training and implementation of Triple P in December. The Department of Children and Families is in the process of reprocuring two contracts Family Enrichment Services and Intensive Family Preservation/Family Reunification Services.  Each of the workgroups is interested in utilizing Triple P as part of their scope of service.
Personally, I love the idea of parents enjoying their children. What resonated with you?