Today's blog is written by Greg Butler, chair of the Connecticut Health Foundation board and executive vice president and general counsel of Eversource Energy.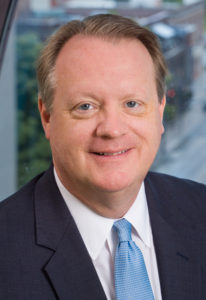 Our state and country are in a period of tremendous transition and uncertainty. The nation is polarized politically. Connecticut is in the midst of a fiscal crisis with no clear path toward a long-term solution. The future of health care policy is highly uncertain. This was the context the Connecticut Health Foundation's board and staff faced in July 2016 as we began developing a new strategic plan – an exercise that, by its very nature, requires creating a blueprint based on our best sense of what the future will bring.
This uncertainty challenged us, but it also gave us focus. The uncertainty and upheaval don't change our mission – to improve the health of Connecticut residents – nor do they affect the pressing need to address the persistent racial and ethnic health disparities that exist in Connecticut, robbing too many people of their well-being and cutting short their lives.
The strategic plan we developed after more than a year of deliberation sets important goals:
preserving health care coverage
ensuring people can use that coverage to access care and develop meaningful relationships with care providers
working toward a health care system that rewards care providers for keeping people healthy, not just treating them when they get sick.
Each of these goals builds on the work we've done under our most recent strategic plan. Each is necessary to improve health outcomes for people of color in Connecticut and create a more equitable society when it comes to health. This plan also includes a new focus on better connecting the health care system to people's communities, so health care will better address the many factors that influence people's health and so those closest to individuals can help address their needs.
For many people, the health care system is virtually impossible to navigate. This is one of the reasons that while more than 90 percent of Connecticut residents have health insurance, far fewer have a regular source of care or get primary care.
Have questions about our plan? Check out a recent Q&A with Patricia Baker, president and CEO of the Connecticut Health Foundation.
My own experience offers some perspective. By any measure, I have been fortunate in life. My education and legal career have given me the experience and confidence to navigate a wide range of situations, and have provided me with many opportunities. I have the privilege of sitting on the board of a hospital and serving as chair of the board of the state's largest health philanthropy.
Yet four years ago, when my wife began developing symptoms that we later learned were ALS, I found myself completely unprepared to navigate the complicated health care system. It was a nightmare.
If someone with my experience and advantages struggled, how does anybody else do it? What are the consequences of not being able to get what you need from a health care system that can literally make the difference between life and death? We must do better in making sure the health care system is accessible to everyone.
One answer is the use of community health workers. These are frontline public health workers who help to bridge the gaps between the health care system and patients' lives. I have long believed that the people closest to a situation are often the most able to understand the nature of it and find the best solutions. They can grasp the nuances and build trust with those involved.
Community health workers can help individuals navigate the health care system and deal with issues that make a difference in their health – whether it's helping them sign up for health insurance, find a primary care doctor, take their medications correctly, or learn the right cleaning techniques to eliminate asthma triggers from their homes. They can also help a patient's doctors understand the challenges in the patient's life and help the health care team understand what's important to the patient.
There is lots of evidence that community health workers can improve patients' health and, when deployed in targeted ways, save money for the health care system. As part of our strategic plan, the foundation is working to promote sustainable ways for health care organizations to integrate community health workers into their care.
More broadly, there is good work being done at a grassroots level to improve health, but often, it's not connected in any systematic way to the health care system. Our strategic plan envisions building stronger connections between the clinical care system and the work being done by community organizations, so everyone involved can work together toward improving health.
As a foundation, we can support these links through funding for demonstration models, research into best practices, and promoting policies that would allow these kinds of partnerships to work best and most sustainably. Our role as a nonpartisan foundation is to examine issues, understand what the evidence shows, and make suggestions on the policies that will best meet our goals of improving health. We can and will work to bring people from different walks of life and political backgrounds together to try to solve problems.
As we enter our new strategic plan, we know we will have to be dynamic and adapt to changes at the state and federal level. If our plan were a coloring book, we would be expecting to have to go outside the lines at times. The world around us is uncertain, but our resolve has not wavered. We remain committed as ever to improving the health of the people of Connecticut, and to realizing our vision: ensuring that Connecticut's next generation will be free from racial and ethnic health disparities.