Today's post was written by Elizabeth Krause, vice president of policy & communications at the Connecticut Health Foundation.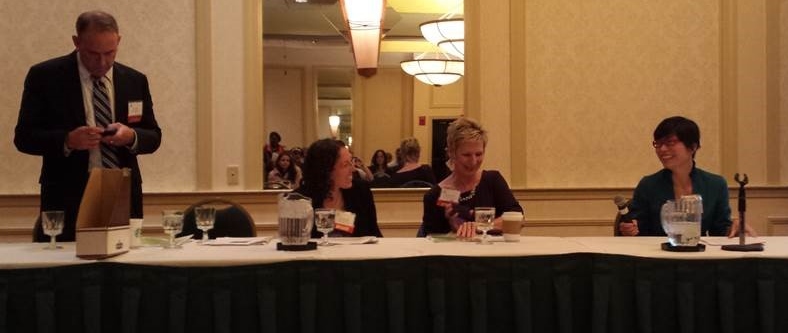 "What happens after the grant period ends?" is an ever-important question for the Connecticut Health Foundation (CT Health).
We make grants that support systems-change initiatives. Systems change is often incremental over a period of years, while the grant period (foundation-speak for the official start and end of a grant) is often much shorter for our investments.
And because we're a foundation looking to maximize our impact with limited resources, the sustainability of a proposal, becomes a key consideration in our decision-making when we're reviewing grant applications.
But sometimes, we just can't know everything that happens after a grant ends.
Fortunately, this is not the case for all of our grant-making, and at the Connecticut Public Health Association's (CPHA) annual meeting, I moderated a panel of four of our grantees who were continuing to make an impact after the grant period had ended.
President & CEO Patricia Baker and I had contributed a post to the Health Affairs Grantwatch blog that precipitated the invitation from CPHA to design and moderate such a panel. "A Connecticut Foundation Experiments with a Different Way of Funding Health Policy Research" highlighted the work of four grantees who had been provided with resources to conduct health policy research and advocacy.
The original grant period was designed to allow time for policy research and publications to be completed, as well time for the grantees to use the findings to inform the policy debate during one legislative session (the grants could not be used for lobbying).  The opportunity to come back together at the CPHA panel was welcome because at that point, two full legislative sessions had passed since the research was completed and we had some catching up to do.
Jesse White-Fresé, Executive Director of the Connecticut Association of School Based Health Centers (CASBHC), spoke about how CASBHC's quantitative and qualitative findings about how school based health centers meet the mental health needs of African American and Latino adolescent males were used to:
Strengthen the case for both preserving and increasing state funding for school based health centers
Inform the post-Sandy Hook conversation about meeting youth mental health service needs
Inform the work of the state Commission on Health Equity around connecting the related issues of health equity gaps and achievement gaps
Deepen a collaborations with research partner, UConn School of Nursing.  Additional data analysis has been done and a manuscript is being shopped to scholarly publications.
Jay Sicklick, Deputy Director for the Center for Children's Advocacy (CCA) Medical Legal Partnership Project, spoke about how CCA's findings documenting missed early red flags in the school records of court-involved adolescents were used to:
Engage in media advocacy through a Hartford Courant op-ed
Convene, as an alternative to proposing legislation, a Department of Social Services task force to develop Medicaid delivery system and reimbursement strategies to support mental health screenings for young children during pediatric visits.  The task force finalized recommendations over the spring and CCA will continue advocating to see them to fruition.
Alyssa Norwood, Health Program Associate at the Connecticut Association of Directors of Health, spoke about how CADH has used their report on making communities healthier through local level housing and planning policy to:
Bring CADH's members along with a vision of expanded possibilities around what health directors can do to advance multi-sector partnerships with officials in municipal planning to accomplish mutually beneficial community goals
The panelists' slide decks may be accessed here courtesy of CPHA.
Unfortunately for us, and fortunately for her, Jane McNichol, Executive Director of the Legal Assistance Resource Center of Connecticut (LARCC) was in Portland, Maine at a competing meeting.  LARRCC's grant was focused on exploring the viability of pursuing a Basic Health Program (an option under the Affordable Care Act that is anything but basic) in Connecticut.  The Centers for Medicare & Medicaid Services released long awaited draft regulations in September and LARRC's leadership on this topic continues.