Introduction
Because much of what makes people healthy happens outside the health care system, clinical care alone cannot prevent or treat health conditions and disparate outcomes that negatively affect people of color. Partnerships between health care providers and community-based organizations hold great promise for addressing people's health and wellness needs in a more holistic and effective way. These types of partnerships already exist across Connecticut and have achieved positive outcomes, including improving people's lives.
The Connecticut Health Foundation published a blueprint for organizations interested in pursuing clinical-community integration. This brief is intended to highlight an example of a successful model, with details on key elements that can inform others' efforts to bridge clinical care and community-based services. While some details are specific to this model, many lessons are applicable to clinical-community partnerships more broadly.
Overview of the Partnership
Middlesex County Community Care Team Partners
Middlesex Health
Advanced Behavioral Health
Beacon Health Options, Connecticut
Chrysalis Center, Inc.
Columbus House
Community Health Center, Inc.
Community Health Network
Connecticut Valley Hospital (Merritt Hall)
Gilead Community Services, Inc.
Mercy Housing
St. Vincent de Paul Soup Kitchen
Rushford Center, Inc.
The Connection, Inc.
The Middlesex County Community Care Team (CCT) was started in in 2010 by Middlesex Health following the suicide of a patient in the emergency department, which led hospital leaders to seek ways to proactively meet the needs of high-need, high-risk patients. Led by Middlesex Hospital, the CCT is now one of several community care teams in Connecticut that bring together providers who work collaboratively to improve outcomes for patients with complex needs.
What It Does
Middlesex County Community Care Team is made up of 13 organizations, including health care providers, community-based organizations, and administrative services organizations[1] that work together in focusing on high-risk patients with mental health and/or substance use issues who frequently visit the emergency department (ED).[2] The patients the team works with typically face many challenges that can affect their health, including housing instability or homelessness, food insecurity, and a lack of social supports. Many have poor connections to regular care and services.
When a patient is identified as high risk, the partners work together to develop and implement an individualized care plan. Each plan identifies what clinical and non-clinical services the patient will receive.
All patients who are identified for the program are consistently monitored for changes in their circumstances and conditions (such as a medical, behavioral health, or substance use crisis or loss of housing). As of January 2020, the team was monitoring 686 patients. The partners meet weekly to review information about patients who were recently in the ED, update their plans as needed, and develop strategies to ensure they get necessary services.
A 2019 preliminary analysis[3] of emergency department (ED) visits[4] for 387 CCT patients showed a 34.6% decrease in visits in the 183 days (approximately 6 months) after signing up for the program. For these CCT patients, there were a total of 1,123 fewer ED visits in the 6 months after signing up for the program, for an average of 2.9 fewer ED visits per person.[5] Over the same time period, these CCT patients also saw an average decrease of 4.25 days hospitalized
Funding and Support
Middlesex Health—the parent organization of Middlesex Hospital—provides the infrastructure for the community care team. That includes a project lead, who provides overall direction and coordination among partners and is a passionate champion for the program. The CCT is one of several responsibilities she has at the hospital.
The hospital also found a way to leverage existing state funding to give the CCT access to additional support. The hospital worked with the local mental health authority to get permission to reallocate existing Department of Mental Health and Addiction Services grant funds toward hospital care managers who provide some support to the CCT (the funds do not allow the CCT to hire its own care managers).
The hospital also provides communications capabilities, including an encrypted email system that enables secure communication among partners and allows them to be notified if a CCT client comes to the ED, for example. In addition, the hospital provides the infrastructure for securing, updating, and storing information releases that allow partners to share information about patients.
Although hospitals are not always incentivized to reduce ED and inpatient utilization because these reductions decrease revenue, the hospital has found that the CCT helps to reduce losses due to Medicaid payments that do not cover the full cost of care. It also helps the hospital avoid federal financial penalties related to preventable hospital readmissions.[6] Along with improved patient outcomes and quality of life, these factors have incentivized the hospital's continued support for the program.
What Others Can Learn from this Partnership
Strong Communication and Technology are Essential
One of the keys to success is having a system to let the CCT partners know when people in the program show up in the ED. When that occurs, the hospital's electronic health record automatically alerts the CCT lead's phone. She then can follow up with the appropriate partners through encrypted emails. (Partners are alerted as soon as she receives the ping or, if it is off hours, the next day.) This core feature of the program enables CCT partners to respond quickly, often before the person leaves the ED.
"What we learned was that people didn't know how often their clients were coming to the ED. How would they know? We never told them. We were not telling all the people on the outside what's happening, nor do we even always ask patients, 'Do you go to the soup kitchen? Who at the soup kitchen do you talk to?'" Terri DiPietro, Director, Outpatient Behavioral Health, Middlesex Health
Regular In-Person Meetings with the Right People and Information are Critical
Representatives from all CCT partners meet every week. They get information about who was in the ED or hospitalized in the past week, review which patients have had contact with their organizations, and check what happened against the care plans. For example, if a patient's care plan calls for regular meals from the soup kitchen, the soup kitchen will verify if the patient was in for meals every day. All partners contribute to planning and decision making.
These meetings have many benefits. Meeting weekly in person enables the partners to stay on top of what needs to happen and quickly develop plans. Because the patients often have multiple—and sometimes life-threatening—needs that can change rapidly, partners cannot wait a month or more to make decisions about how to intervene. Having all partners together allows the development of more holistic solutions than if only a few partners were participating. The weekly meetings also keep the momentum of the group going and ensure the CCT is always a priority.
Having the right people is also critical. Typically, it is not the leaders of each organization who come to the meetings. Rather, it is the people who can intervene with the patient directly. Having them agree on what needs to happen and take action together also helps develop strong working relationships, even among clinical providers who compete for patients or clients.
Two critical partners that attend the meetings are not service providers but organizations that have access to information the others do not. The first is Community Health Network of Connecticut, which administers the medical portion of Connecticut's Medicaid program. The second is Beacon Health Options, which performs a similar function for behavioral health services in Medicaid as well as for clients of the state Department of Mental Health and Addiction Services (DMHAS) and the Department of Children and Families (DCF).
Because these two organizations have claims data for Medicaid, DMHAS, and DCF, they can provide a full view of where the CCT patients received care that other providers would not otherwise see. For example, if a patient goes to another hospital's ED, Community Health Network can let the CCT know. If a patient is receiving inpatient treatment for a substance use disorder, Beacon will know.
There Must to Be a Well-Defined System for Sharing Patient Information
Middlesex Health, as a backbone organization for the program, is responsible for obtaining and storing patient information releases, which are required for partners to communicate about patients.
The CCT only accepts patients who are willing to have their information shared among all partners. It would be too difficult to manage the program if not all partners could participate in patients' care plans. Excluding patients from the program because of this policy is rare.
The Middlesex County CCT does allow patients to add another organization or person (such as their parole officer) from outside the CCT to the release of information.
Partners Need Support from Each Other
Working with patients with complex needs is difficult. When patients relapse or die, it can be devastating for the people who have worked with them. Informing each other when these events occur and talking about them should be part of the regular communication among partners. The Middlesex County CCT partners process these events with each other. For example, when a patient with few social connections died, a CCT care manager was devastated and especially sad thinking that no one would even care that she died. The project lead told him, "Well, that's not true. You and I care." They sometimes go together to services for those who die, to honor the person's memory and support each other.
"If we don't keep each other strong, then we can't help the people that need our help." Terri DiPietro
Challenges and Considerations
While the Middlesex County CCT partnership has been successful, it faces challenges that can inform others considering developing similar partnerships.
Proving positive impact: Sustaining these types of partnerships often requires being able to demonstrate the positive impact on the patients and partners, as well as a return on investment. To do that, partnerships need access to data and data analytic capabilities. While the CCT routinely tracks ED and hospital utilization and health indicators through the hospital's electronic health record system, it does not have all the data it needs or the analytic capacity to evaluate the full impact of the program and the return on investment on a regular basis. For example, the program does not have data to show reductions in Medicaid losses for the hospital or precise cost reductions. CCT leaders hope to find an academic partner to conduct another analysis of outcomes related to health, quality of life, utilization, and costs. The lack of data and analytic capabilities have been a barrier to pursuing financing strategies that require evidence that the partnership saves more money than it costs to operate.
One possible solution could be for funding from philanthropy or other sources to support data collection and analysis to demonstrate the model's impact and return on investment. This could help position partnerships to seek other types of financing, such as state appropriations or social financing opportunities.[7]
Staffing: The Middlesex County CCT benefits from having a passionate, devoted project lead, who added CCT responsibilities to her existing job at the hospital. While committed leadership is often a key ingredient in successful models, relying on one person can be difficult for new partnerships to replicate and a problem for long-term sustainability. In addition, for new partnerships, having a backbone organization allocate dedicated staff time or resources in its budget could help solidify the organization's commitment.
Sustainability: While Middlesex Health has provided a leader and infrastructure to support this partnership, CCTs and other similar partnerships typically need other resources to be sustainable. Connecticut lawmakers included funding for CCTs in the state budget in 2015, based on an analysis of potential cost savings, but the money did not materialize because of the state's budget challenges. Without funds, other CCTs struggle to sustain their programs.
A solution could be financing for community health workers (CHWs), especially from Medicaid, which covers more than half of the CCT patients. Although the Middlesex County CCT does not currently use CHWs, the partners see them as a way to deliver non-clinical support and services that their patients typically need (such as help getting to appointments and accessing services). Having CHWs would free up the time of clinical and professional staff who often perform non-clinical work simply because they do not have other staff to do it. Medicaid funding for CHWs could also support the viability of similar models to provide services in a more community-based, person-centered way for Medicaid patients.
The CCT Program During COVID-19
Since the beginning of the COVID-19 pandemic, the CCT partners have continued to meet weekly and serve CCT patients. However, the There also have changes in the availability of services and places for CCT patients to go due to COVID. For example, the soup kitchen's dining room closed because it was unable to serve clients and maintain social distancing, although it now offers meals to go. The local shelters had to reduce capacity, the local library was closed until recently, and churches that offered services closed. Although some services are available again, winter will make access to services more difficult. For example, CCT patients often use warming centers during the winter; however, Middletown does not plan to open a warming center this year.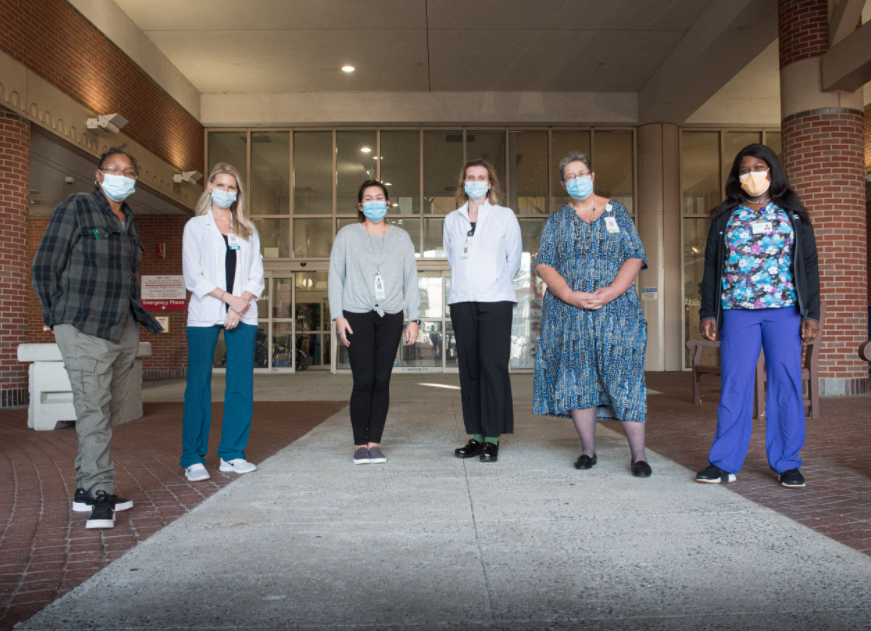 While some providers saw more engagement from patients and clients overall by offering services virtually, this was not the case with CCT patients. Many did not have access to a computer, smart phone, or the internet that would allow them to take advantage of virtual services. This was made worse when the library closed because that is where many of the CCT patients accessed the internet.
Although case conferencing continued virtually, getting CCT patients all the services they need has become . Partners work together to find creative solutions for the CCT patients when they can. For example, when food became more difficult to access, they worked with local partners who began delivering food twice per day at the local YMCA and shelter. However, there are other issues created by the pandemic that they have not yet been able to address, such as planning for the additional needs CCT patients will have in the winter.
"Our partners showed a lot of bravery and creativity, but there are a whole host of things that we haven't been able to take on yet."
Endnotes:
[1] Administrative services organizations (ASOs) administer Medicaid and Connecticut's other public health care programs under state contracts.
[2] Specifically, the CCT targets patients who have been the ED at least five times in six months.
[3] Analyses completed by a student at Wesleyan University as part of a service learning lab.
[4] The data only covered ED visits at Middlesex Health.
[5] The analysis was not able to determine if the ED visits were preventable, unnecessary, or necessary.
[6] The federal government penalizes hospitals with high 30-day readmissions rates by reducing their Medicare payments. In 2015, 40% of the CCT's patients were covered by Medicare.
[7] Social finance includes both grant funding and funds that have to be repaid, such as loans from social sector banks, investments from social funds, and social impact bonds, that are used to support positive social outcomes. Often different types of financing are combined into a financing package.