Today's post is written by Mary Boudreau, Executive Director of the Connecticut Oral Health Initiative (COHI), one of CT Health's oral health advocacy grantees.
"When 'I' is replaced with 'We', even 'Illness' becomes 'Wellness'." ~ Malcolm X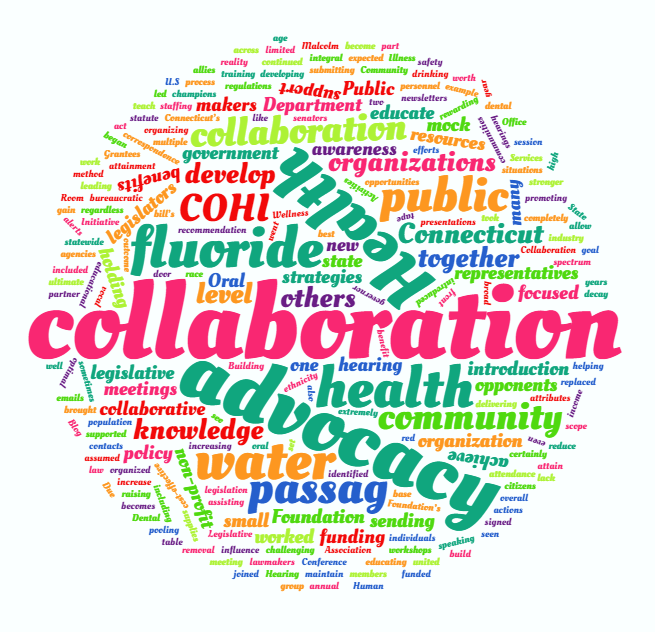 Advocacy in a small non-profit organization is certainly one of the most rewarding opportunities out there, helping communities and leading by example. It is also one of the most challenging situations as there are opponents, lack of funding, limited personnel and resources, bureaucratic red tape, and sometimes an act of legislation or regulations that must be overcome to see efforts become a reality.
In the state of Connecticut's 2016 legislative session, a new bill was introduced to update the statewide community water fluoridation statute to correspond with the new U.S. Department of Health and Human Services' recommendation for the optimal fluoride level.  Community water fluoridation has been identified as the most cost-effective method of delivering fluoride to reduce dental decay to all members of the community, regardless of age, race, ethnicity, educational attainment, or income level.  While many citizens and lawmakers supported this bill, its introduction was seen by many opponents of water fluoridation as a door to call for the removal of fluoride from drinking water completely. Due to this small but extremely vocal group, passage of this bill was not assured.
The goal was set to educate the public and policy makers on the safety and benefits of community water fluoridation with the ultimate outcome to gain passage of the bill and have it to signed into law by the governor.   To achieve this, non-profit organizations, government agencies, representatives of the water industry and others joined together. By organizing a united front, it allowed for the pooling of resources, including knowledge, funding, contacts, influence, staffing and more.
Each organization in the collaborative focused on what they do best. Activities included sending out newsletters and emails, holding workshops, meetings and conducting a mock hearing, meeting with legislators and other policy makers and promoting the benefits of fluoridation with the public.  Each partner brought what they had to the table and worked together to build a stronger base.
The Connecticut Oral Health Initiative (COHI), a non-profit funded by the Connecticut Health Foundation, took a broad scope of actions to achieve passage of the bill on community water fluoridation.  They organized training and meetings with the Department of Public Health, CT Health Foundation's Oral Health Advocacy Grantees and others to educate all on the attributes of fluoride and to develop strategies to attain bill passage and increase the public's knowledge on the subject.  COHI began speaking to legislators about fluoride in public water supplies more than a year before the introduction of the bill, developing champions who would support the bill's passage.  COHI focused their annual Advocacy Conference to teach those in attendance about fluoridation, the legislative process and public hearings through presentations and held a mock hearing in a Public Hearing Room at the Legislative Office Building.  As well as sending out alerts, raising awareness and assisting others in submitting correspondence to their representatives and senators, COHI with other organizations like the Connecticut State Dental Association, continued their efforts to educate and increase awareness of oral health as an integral part of overall health and how water fluoridation would benefit population health across the spectrum.
More than two years' of work went into this collaborative as organizations and individuals worked together to develop knowledge, strategies, and allies which led to the bill's high level of support from the state government. Both the House and the Senate unanimously passed Bill 5350, An Act Concerning the Department of Public Health's Recommendations on Fluoridation of the Public Water Supply in 2016. Public Act 16-4 was signed by Governor Malloy on May 2, 2016.
Time, teamwork, and unyielding resolve came together to produce a resounding success, not just for the members of the coalition, but for the residents of Connecticut. The goal of coalition-building is to combine resources resulting in a greater outcome than what could be done alone.
To learn more about oral health in Connecticut, visit http://www.ctoralhealth.org/